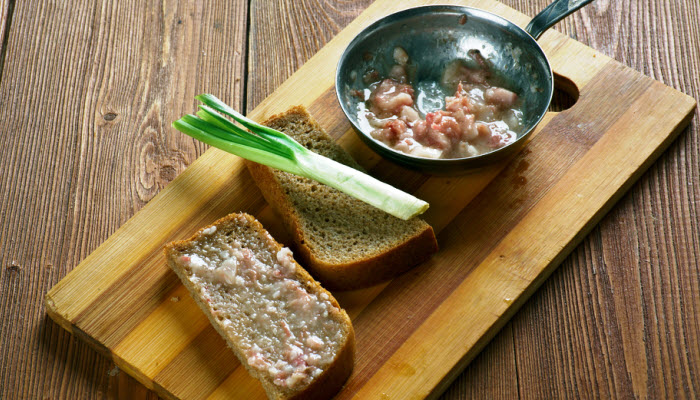 This recipe for schmaltz and grebenes will give you a taste of the past (for those who remember!)
The Backstory: This is definitely a Jewish thing.  And what you might call an acquired taste. Mention it to someone who is not a "member of the tribe" and watch the looks you will get. If you were not raised in a Kosher home you will probably wince at the idea of this artery-clogging food. It's understandable. More of the Backstory after the recipe…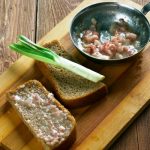 Schmaltz and Gribenes
Yellowish in color, with pieces of fried chicken skin and onions that gives it the flavor, you will delight in a taste of the olden days.
Ingredients
fat and skin from one chicken

1/4

cup

yellow onion, peeled and diced

1

apple, (with peel on), sliced
Instructions
Wash the chicken skin and pat dry. Cut into small diced pieces. Put the skin into a pot and heat on low heat. When the skin is almost melted, add the onions and apple slices. When the onion is brown, remove from heat and let cool. Strain everything well.

The onion and the rendered fat can be stored in the refrigerator. Discard the apple slices. This can be used in chopped liver, kasha varniskes, or spread on bread or matzos.
…The Backstory continues: And let's be realistic: Schmaltz and gribenes isn't exactly a staple in Kosher homes anymore. Schmaltz alone has been replaced by olive oil, canola oil, and a host of other refined spreads and oils. However, I believe that once in a while you can indulge in the tasty foods of your early years and bring back memories.
I remember, one time in particular–I was about 10 years old. The year was 1951.  I was at my friend Sherry's house.  Her grandmother, who was in her mid 80's was having matzo with chicken fat and a cup of coffee.  We girls joined her and smeared our matzos with this spread.  Believe it or not, this was the first time I had a cup of coffee. I never forgot that time.  And I never forgot Sherry and her grandmother.
Please follow and like us: