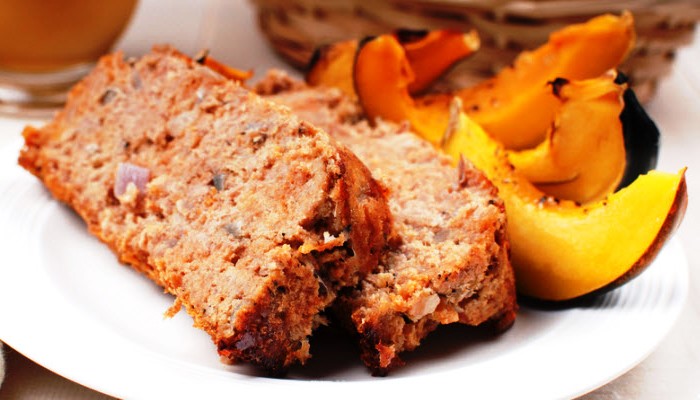 Savory turkey meatloaf is a lighter alternative to beef, but is still moist, juicy, and full of delicious flavor and texture.
The Backstory: Can you say comfort food like Mom used to make?!  Our savory turkey meatloaf can be made in a million different ways using ground beef, turkey and even chicken (there goes any chance of flavor, my friends). I have made hundreds of these over the years and truth be told, there is nothing like a good, juicy, full-fat meat loaf. I mean, if we're going to be honest, let's be honest. However, you can bring a tremendous amount of flavor, juiciness and goodness to turkey meatloaf if you take the time to saute and flavor your vegetable base first and use good ingredients that have depth of flavor like Worcestershire sauce and ketchup. You simply have to build layers; there are no shortcuts. More of the Backstory after the recipe…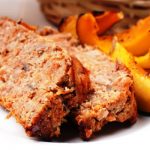 Savory Turkey Meatloaf
This delicious meal is savory, comforting, and tastes like something Mom would make. Serve with baked, roasted or mashed potatoes, your favorite veggie, and enjoy.
Total Time
1
hour
15
minutes
Ingredients
1 1/2

lb.

Kosher ground white meat turkey

1/2

lb.

Kosher ground dark meat turkey

1

large egg beaten

1/2

cup

unseasoned bread crumbs

1

tbsp.

worchestershire sauce

1/2

tsp.

black pepper

2

garlic cloves, minced

1

small sweet onion, chopped

1

medium carrot, grated

1-2

tbsp.

oil

2

tbsp.

ketchup

divided

1

tbsp.

chopped fresh parsley

water
Instructions
Preheat oven to 375 degrees. Add 1 tbsp. oil to a small skillet and saute the onions for about a minute or two. Add the garlic and stir. When the onions are softened (be careful to not burn the garlic), remove from the stove. Do not discard any of the oil left in the pan. Set aside.

In a large mixing bowl, add the egg, bread crumbs, Worcestershire sauce, black pepper, grated carrot, parsley, 1 tbsp. ketchup, and the onion mixture. Also add any oil that may be left in the pan. Mix together until well combined. Add the ground turkey and 1/4 cup water and gently combine until well-blended.

Put the turkey mixture into a 9 x 5 loaf pan. Spread the rest of the ketchup on top. You might need more ketchup if so, add a little more. Drizzle the remaining 1 tbs. of oil over the ketchup. Lower oven temperature to 350 degrees. Bake for 1 hour and ten minutes.

Remove from oven and let rest 5-10 minutes before slicing.
…The Backstory continues: That said, this is a very simple recipe and it gets the job done beautifully. This is my version of a healthy, hearty, comforting turkey meatloaf. It can be made to be just as moist as traditional beef meatloaf, by adding some more liquid and sauces, and just as delicious. Now that I have made this meat loaf and made it so flavorful and juicy (and you will too, with this recipe), I typically substitute ground turkey for beef in my Stuffed Cabbage recipe. I have also made this in mini loaves and frozen them to to use at a later date. This recipe can also be used to make turkey meat balls. Which ever way you follow the recipe I hope you will find it delicious.
Please follow and like us: