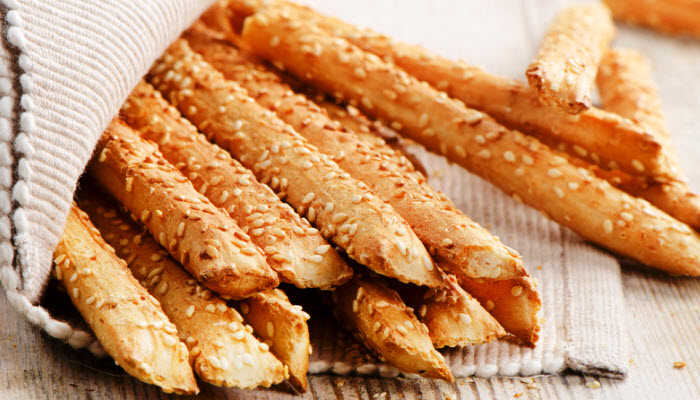 Crunchy Bread Sticks with Sesame Seeds
Crunchy bread sticks with sesame seeds are nutty with a deep sesame flavor. These are perfect with soups, salads. or just for snacking.
The Backstory: Bread, no matter what shape: loaf, round, square, twisted into a roll. or made in long strips, is the staple of life. Every culture has been using some form of bread for meals or even in religious ceremonies. One of the rites I well remember was my husband taking challah. This is one of the most sacred rites in the Jewish religion. This rite is passed on from mothers to daughters. My husband owned the first Kosher bagel bakery in Brooklyn, N.Y. Every morning, Monday through Friday, and on Saturday night, well after the Sabbath ended, he would reopen the doors, and bake bagels. But before any bagel went into the hot oven he would twist off a piece of dough and put it into the oven and say a prayer. Now, what has this to do with crunchy bread sticks?  In Jewish homes, no matter what bread is served prayers must be said. These sticks meet the standards.  And they are delicious. More of the Backstory after the recipe…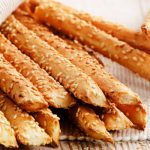 Bread Sticks with Sesame Seeds
Long and crispy, bread sticks are a delicious addition to any meal from soups to salads to anything with a sauce for dipping. Sesame seeds give these an extra toasted flavor and crunch.
Total Time
2
hours
35
minutes
Ingredients
1/2

package of active dry yeast.

5-6

tbsp.

warm water

1/2

tbsp.

butter

or pareve margarine

1 1/2

tsp.

Kosher salt

1 3/4

cups

siffted flour

2+

tsp.

sesame seeds

for sprinkling

1/4

cup

any herb

this is optional/ mixed in with the dough

1 1/2

tbsp.

white sugar

four

Kosher salt

optional/ for sprinkling
Instructions
Put yeast into a large bowl. Add the warm water and let it rest for about 2-3 minutes. Then stir until all is dissolved. Add salt, butter, sugar and flour. (If using herbs add it to the bowl). Mix well.

On a flat surface, place a baking cloth and lightly put a little flour on the cloth. Put the dough on the cloth and knead for about 8-10 minutes. At this point the dough will feel smooth and elastic. Put a little oil into a large bowl and coat the entire inside of the bowl. Then add the dough. Coat the dough with the oil from the bowl.

Cover with a clean towel and place in a warm place for 1 hour. After an hour uncover the dough and punch down the dough. Put the dough on the baking cloth.

Using a rolling pin, roll out 12 inch rectangle, about 12. Cut 12 strips. Roll each strip, using the palms of your hands into long sticks This will make each piece about 12 inches long and 1/ 4/ to 1/3 thick.

Line a large baking sheet with parchment paper and grease it sparingly. You may need 2 pans for this. Put the sticks on the baking sheet pan, leaving 1 inch or more between them.

Sprinkle on the sesame seeds ( you can also sprinkle on some salt) Cover with the clean cloth. Let it rest in a warm place for 1 hour.

Preheat oven to 400 degrees. After the last rising, place the baking pan(s) into the oven for 15-20 minutes. Check occasionally. When the sticks are a golden color they should be done. Remove and let cool before serving.
Please follow and like us: