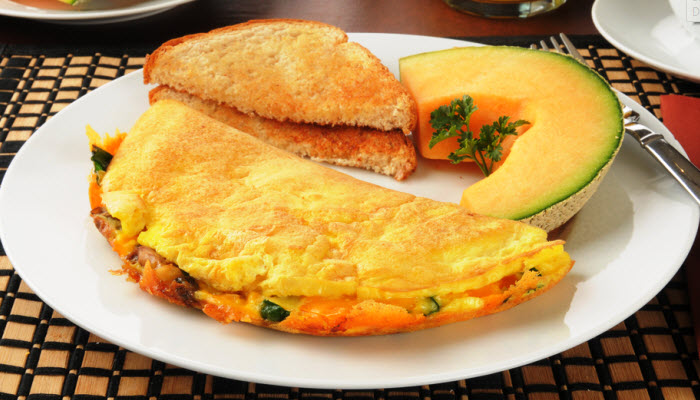 Vegetarian Western Omelet
Our vegetarian western omelet is a delicious meat-free version of the classic recipe, and is perfect for breakfast, lunch or a light dinner.
The Backstory: One of the things New Yorker's rely on (and grow frustrated with when they can't get it elsewhere) is the ability to order and eat just about anything in a diner at any hour of the day or night. Feel like spaghetti at midnight? No problem. French toast at 1 am? No problem. Admittedly, we're spoiled and we like it that way. It's a New York thing. So is finding about 50 different kinds of omelettes on most diner menus. It can take you an hour to decide what to order. I'm not complaining–I love the selection. It might be one of the things that makes New Yorkers just a little (ha) hard to please, but the first to give a compliment when we find something fabulous, whether it's food or great service.. More of the Backstory after the recipe…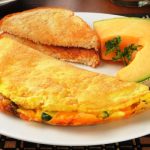 Western Omelet
This delicious omelette is full of savory flavors from the onions, peppers and tangy cheddar cheese. Serve with a toasted bagel, or plain toast, and fresh fruit for a delicious breakfast or brunch.
Ingredients
4

jumbo eggs beaten with milk

1

tbs.

Whole milk

1

tbs.

oil

1/2

cup

chopped onions

1/2

cup

chopped green peppers

2+

tsp.

margarine or butter

1/2

tsp.

Kosher salt

to taste

1/4

tsp.

black pepper

to taste

1/4

cup

mild cheddar cheese

shredded cheese (optional)
Instructions
In a large skillet heat the oil, on medium heat. Add the peppers and onions and saute for about 5 minutes, until softened. Remove them from the pan and set aside in a small bowl. With a paper towel remove some of the oil from the skillet and remove skillet from heat.

Place beaten eggs in a large bowl and add salt and pepper. Add the onions and green peppers to the egg mixture and stir. Put the skillet back on the stove. Add some margarine or butter. When this is melted pour the egg mixture into the skillet. Let it set slightly in the middle. Add cheddar cheese. When the cheddar cheese melts and the omelette is set, fold in half and slide onto a plate. Serve immediately.
…The Backstory continues: This recipe is for a vegetarian western omelet. The traditional version calls for ham in it. Since I don't eat or cook with ham, I order this omelet without meat and make it at home the same way. It is just delicious, savory, and crunchy with all of the sauteed onions and peppers. It happens to be one of my favorite omelettes and more often than not, my go-to at a diner.
Please follow and like us: