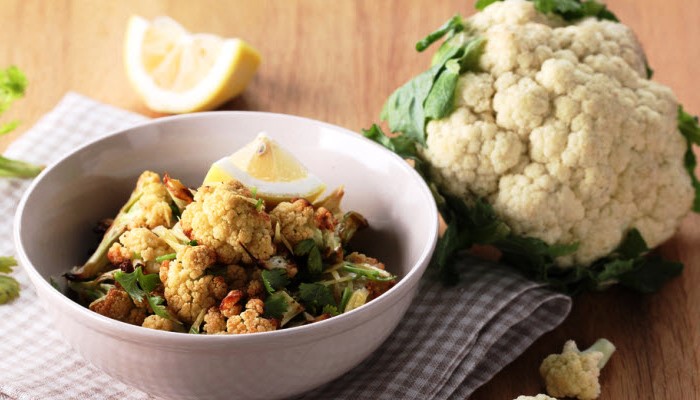 Roasted Cauliflower with Lemon and Garlic
Roasted cauliflower with lemon and garlic is insanely delicious and a perfect side dish.
The Backstory: Roasted cauliflower with lemon and garlic is just about one of the tastiest foods you could serve. Cauliflower itself is an elegant vegetable and when done right, it is one of the most delicious dishes you can bring to the table. Think Beef Tenderloin, Rib Roast and a host of other foods.  I often serve cauliflower cold, on a platter with other veggies and a savory dip. It is a delicious snack food. Cauliflower can be sauteed and served with a lemon butter sauce, quickly stir-fried and served with soy sauce, garlic, and ginger, and It can also be mashed and whipped together with cooked potatoes. If you've ignored cauliflower in the past, give it another look. No matter how you serve it, there won't be a morsel of this delicious veggie left at the end of the meal,
Roasting cauliflower really brings out the sweetness of the vegetable and gives it a taste that is completely different then when you eat it raw. Forget about those old crudite platters and dipping days of carrots and hummus. Roasted cauliflower is sweet, tender, and actually has a creamy taste and texture. Add lemon zest and garlic to this hearty veggie and taste the amazing results. This is just one of those things that you'll just have to trust me on.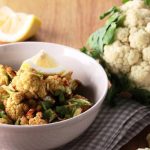 Roasted Cauliflower with Lemon Peel and Garlic
Before roasting this veggie is pale in color. After roasting the veggie takes on almost a reddish hue. Garlic and the lemon peel add a zing to the taste.
Ingredients
1

large head of cauliflower

1

inch of lemon peel

cut into small pieces

1-2

garlic clove, chopped

2

tbsp.

oil

1/2

tsp.

Kosher salt

1/4

tsp.

black pepper

flat leaf parsley

for garnish

lemon wedges

for garnish
Instructions
Preheat oven to 400 degrees. Remove the stem from the cauliflower. Wash and pat dry the florets. Separate the florets into medium pieces. Set aside

Line a rimmed baking sheet with parchment paper. Place the florets on the pan and season with salt and pepper and add the garlic and lemon pieces and 1-2 tbsp. oil. Mix everything together with your hands. If you need more oil, add a little. Do not drown the veggies with too much oil. Spread the cauliflower out evenly in a single layer.

Put in the oven and roast for about 10 minutes. Check to see it florets are soft. If not stir all the veggies together, and spread them out. Continue cooking for about 5-10 more minutes. Check often.

When done, remove from oven. Place in a dish and garnish with parsley and lemon wedges.
Please follow and like us: