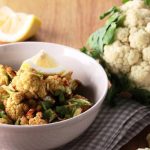 Roasted Cauliflower with Lemon Peel and Garlic
Before roasting this veggie is pale in color. After roasting the veggie takes on almost a reddish hue. Garlic and the lemon peel add a zing to the taste.
Preheat oven to 400 degrees. Remove the stem from the cauliflower. Wash and pat dry the florets. Separate the florets into medium pieces. Set aside

Line a rimmed baking sheet with parchment paper. Place the florets on the pan and season with salt and pepper and add the garlic and lemon pieces and 1-2 tbsp. oil. Mix everything together with your hands. If you need more oil, add a little. Do not drown the veggies with too much oil. Spread the cauliflower out evenly in a single layer.

Put in the oven and roast for about 10 minutes. Check to see it florets are soft. If not stir all the veggies together, and spread them out. Continue cooking for about 5-10 more minutes. Check often.

When done, remove from oven. Place in a dish and garnish with parsley and lemon wedges.