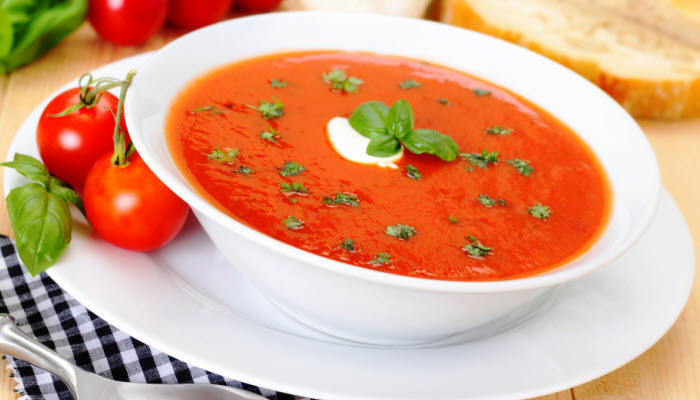 Quick Tomato Soup is delicious, savory, sweet and the perfect compliment to grilled cheese sandwiches on a cold day!
The Backstory: I love tomato soup but I'm a self-confessed tomato soup snob. I admit it. I have fussed and fussed over finding a recipe for a delicious and quick tomato soup recipe but truth be told, one of the best bowls of creamy tomato soup that I have ever had can be found in the Nordstrom restaurant on Michigan Avenue in Chicago. I could eat a bowl of that soup, every single day of my life and not grow tired of it. But, creamy tomato soup would probably push my closet to four sizes (instead of the three it already houses, LOL), so I do my best to not go down that road. (Not that this keeps me off of Ben & Jerry's, but that's a story for another day). More of the Backstory after the recipe…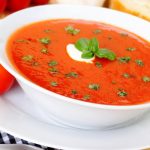 Quick and Easy Tomato Soup
This rich, savory, and delicious tomato soup will warm you right up on even the coolest wintry day! Serve with grilled cheese sandwiches or a hunk of crusty bread for the perfect cold weather lunch.
Ingredients
2

tbsp.

canola oil

1

cup

diced onion (small dice)

2

cloves garlic, finely minced

1/4

cup

tomato paste

2

tsp.

Kosher salt

1

tsp.

freshly ground black pepper

1

tsp.

sugar

1

28 oz. can San Marzano whole peeled tomatoes

3

cups

Kosher chicken stock or canned chicken broth

1/2

cup

chopped fresh basil leaves

1/2

cup

heavy cream (optional)
Instructions
In a large stock pot, heat oil on medium heat. Saute onions until tender for about 5-10 minutes (do not brown the onions). Add garlic and cook for another 2 minutes. Add tomato paste, salt, pepper, sugar, tomatoes and broth or stock. Bring to a boil.

Reduce heat and simmer for 20 minutes, stirring occasionally. With an immersion blender, puree soup to desired consistency. If using a regular blender, allow soup to cool slightly before blending. Check seasonings to taste. If necessary, add more salt or pepper.

To make this a creamy soup, after pureeing, add 1/2 cup heavy cream and stir well.

Add chopped basil and serve.
…The Backstory continues: I grew up avoiding most soups and not falling in love with them until I really began cooking in my twenties. No idea why. My grandmother and mother both made fine pots of Matzoh Ball Soup and Vegetable Soup and I appreciate these recipes so much now. These days, my husband and youngest son, Morgan, regularly request grilled cheese and tomato soup and this is what I serve them. I often double this recipe and freeze extra servings, especially in the winter months.
Please follow and like us: