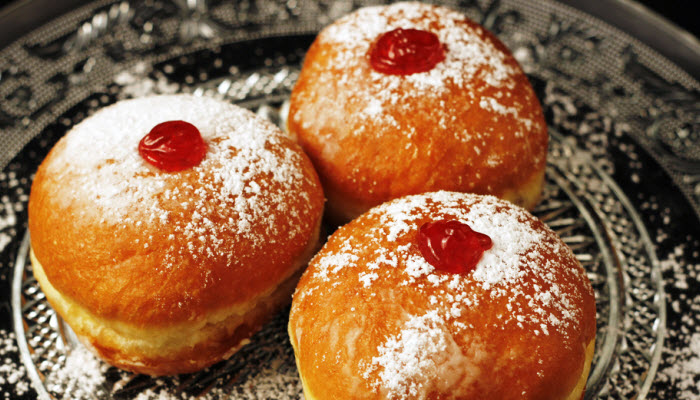 Old-Fashioned Jelly Doughnuts
Our old-fashioned jelly doughnuts are puffy, golden, and bursting with sweet jelly, just like the sufganiyot of your childhood.
The Backstory: What would Chanukah be without our beloved old-fashioned jelly doughnuts? I can vividly recall my grandfather taking me as a little girl, to a small bakery not too far from where he and my grandmother lived in Mill Basin (Brooklyn) to buy jelly doughnuts (and sprinkle-covered Boston Cream doughnuts) to bring back to my grandparents' house for Chanukah. I can still see the doughnuts going into the boxes at the bakery, and the huge wheel of red and white string that was suspended, almost in mid air, and how quickly the woman at the bakery whipped that string around each box. Remember that wonderful string? How you would run your finger underneath it and along the edges of the white boxes, trying to wedge just a little into the box to guess what was inside? More of the Backstory after the recipe…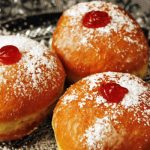 Jelly Doughnuts (Sufganiyot)
Golden, sugary, puffy, and filled with sweet raspberry jelly, these doughnuts are the doughnuts of your childhood and totally worth the effort!
Total Time
2
hours
20
minutes
Ingredients
2

envelopes

active dry yeast

1/2

cup

very warm water

1/2

cup

warm milk (whole or 2%)

do not use skim or 1%

1/3

cup

unsalted butter, at room temperature

1 1/4

cup

sugar, divided

3

egg yoks at room temperature

1

tsp.

vanilla

1

tsp.

Kosher salt

3 1/2

cups

all-purpose flour

1

egg white, beaten.

canola oil for frying

1

cup

raspberry jelly or preserves
Instructions
In a small bowl, add the yeast to the warm water to dissolve. Set aside. In the bowl of a standing mixer or with a handheld mixer at low speed, combine milk, butter, 1/4 cup sugar, egg yolks, vanilla, salt, yeast mixture and 3 cups of flour. Beat until well combined and smooth. Stir in another 1/2 cup flour until the dough is smooth. Place dough in a greased bowl and turn once to make sure dough is greased on all sides. Cover with a towel and let rise in a warm place until doubled (1 hour).

After an hour (when dough appears to have doubled), punch dough down and cut in half. Roll out each half of the dough on a flour board to 1/4" thickness. Use a 1/2" cookie cutter or a small floured glass to cut out circles. Place each circle on a greased baking sheet or sheet lined with a Silpat mat. Place 1/2 tsp. of jelly or preserves in the center of the circles. Brush around the edges of each circle with the beaten egg white.

Roll out the remaining half of the dough, making more dough circles. Top each jelly circle with a plain circle of dough. Press the edges together tightly. Cover with a towel and let rise for 45 minutes.

Heat oil in electric fryer to 375 degrees. While oil is heating, place the remaining cup of sugar in a shallow bowl or wide pie dish. Fry doughnuts a few at a time (be careful not to crowd them) for 2 minutes on each side. Drain on paper towels and roll in remaining sugar while still warm. Enjoy!!!
…The Backstory continues: Well, the jelly doughnuts of my childhood Chanukahs were a thing of beauty. Plump and covered with grainy sugar and so, so soft. The jelly on the inside had a different texture than what you find now. I can't really explain it–sort of like preserves only without the seeds. It was just thick and delicious and the most beautiful cranberry-like color. I can still see it. I know people always complain now about how massive food portions have become (supposedly compared to way back when) but these doughnuts were not small.  I remember that four fit into one layer of a large bakery box, in two rows of two, and then a bakery sheet of tissue would go on top of them for another layer. How do I remember this so well? Because my grandmother gave me the job of "putting the doughnuts out" onto the dessert table. And of course I took this job very seriously. So here's how the math broke down:
Two bakery boxes of doughnuts. Four to eight per box. One box for Boston Cream. One for jelly. Sounds like a lot (but you've never met my family). At that time, something like eight local first cousins, and their parents (assorted aunts, uncles) and grandparents. I cannot underestimate the inhalation powers of one (favorite) male cousin who even has something in our family named for him called The Jay Bite.
You get the picture. Don't let him near any food that you hold dear.
Best. Days. Ever.
Please follow and like us: