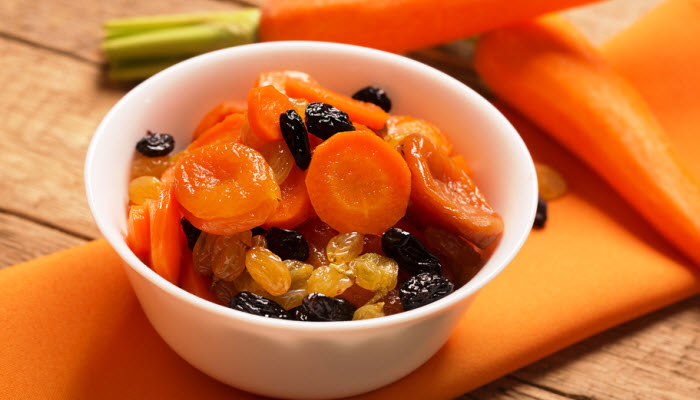 Mom's Tzimmes is a sweet, tender, and succulent fruit stew that cooks up in under an hour. It's perfect for Passover or the High Holy Days.
The Backstory: This traditional, stewed dish is always served on Rosh Hashanah.  I have never been to any High Holiday dinner when it was not part of the meal. It's funny how even when we simply pass the serving bowl around, we are really passing around our traditions and remaining connected to who we are, and who came before us. More of the Backstory after the recipe…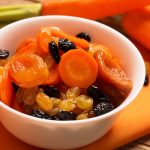 Mom's Tzimmes
The tenderness of the carrots and the sweet potatoes are prefect companions to the richness of the honey and brown sugar. Add to that the different seasonings and it is just about the most pleasant tasting veggie dish you will ever have.
Total Time
1
hour
15
minutes
Ingredients
2

lbs.

sweet potatoes peeled and cut into 1 inch chunks.

1

lbs.

carrots, peeled and cut into 1 inch chunks.

1

cup

pitted prunes

1/4

cup

firmly packed brown sugar

1/4

cup

honey

1/2

cup

orange juice

1/4

tsp.

ground nutmeg

1/2

tsp.

ground cinnamon

1/2

cup

pavre margaine
Instructions
In a large pot, place the sweet potatoes and cover with water. Boil until just about tender. This should take about 15-20 minutes. Place carrots in a sauce pan, cover with water and bring to a boil. Check after 15 minutes to see if they are tender, if not, cook for another 5 minutes.

In a large saucepan mix margarine, brown sugar, honey, cinnamon, nutmeg and orange juice. Set aside.

Drain potatoes and carrots and add to the large saucepan with the butter and seasonings. Add add the prunes. Reduce heat and simmer until sauce thickens about 15-30 minutes. This can be served immediately.
…The Backstory continues: Usually, someone at the table will ask, "Who made this?" (or that) and start talking about how delicious something is. That always leads to stories about family members, how others in the family used to celebrate the holidays and the next thing you know, everyone is wandering down memory lane, talking about the good old days. All because of a delicious bowl full of tzimmes!
Tzimmes serves as one of the symbols of what our ancestors also feasted on to celebrate freedom.  Tzimmes with all its natural sweetness is a way of wishing everyone at our table a very sweet New Year.
Please follow and like us: