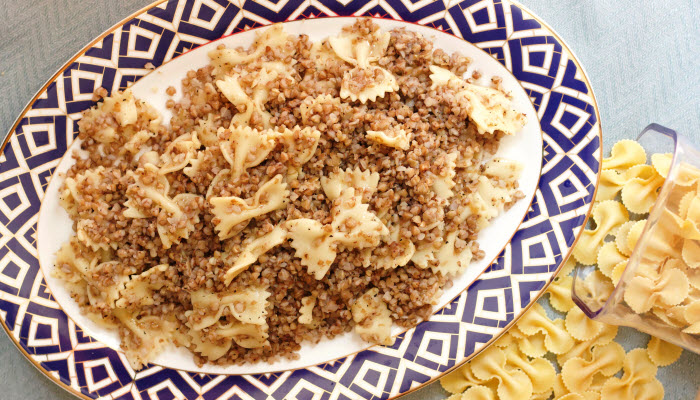 Step back in time with our classic kasha varnishkes, just like Bubbie used to make. This comforting dish is truly a taste of yesteryear.
The Backstory: Kasha is a grain also known as buckwheat or groats.  This grain was popular in Polish and Russian cuisine.  Kasha was a staple in Jewish homes because it was readily available and typically inexpensive.  Besides using it with noodles it is also used as a stuffing for knishes and kreplach.  You can still find Kasha Varnishkes on Jewish deli menus today but truth be told, this is a dish that is not a staple in most Jewish homes anymore, and like many of the more old-fashioned recipes of our culture, is probably best remembered by my generation and those before me. More of the Backstory after the recipe…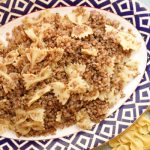 Kasha Varnishkes
Adding fried onions and chicken fat (the old fashioned way!) to this dish, turns it from being bland into a tasty comfort food from days gone by.
Ingredients
1 1/2

cups

uncooked kasha

2

eggs, beaten

1/3

cup

chicken fat

or vegetable oil

1

medium to large sweet onion chopped

1/2

lb.

bow tie noodles

2

tsp.

Kosher salt, divided

1/2

tsp.

black pepper

3 1/2

cups

water or chicken stock
Instructions
Preheat oven to 350 degrees. Mix the kasha with the eggs. Add 1 tsp. salt and pepper. Mix with a fork. Put into a baking dish and spread evenly. Bake for 15-20 minutes. Stir occasionally, do not let the kasha dry out too much or burn. While this is baking, bring the water or stock to a boil. Remove kasha from the oven and add to the boiling water stir and cover. Cook for 15 -20 minutes, or until all the water is absorb. Stir often, do not let the kasha become to dry. If needed add more liquid.

While the kasha is cooking, heat 1 tbsp. of chicken fat in a skillet and saute the onions until golden brown. Pour the onions and the fat from the pan into a bowl. Set aside.

Boil the noodles according to the package directions and add the salt. When noodles are cooked, drain and return to the pot. When kasha is done, add to the noodles and add the onions. Stir and check seasonings. Serve hot.
…The Backstory continues: That said, kasha was a life-saving food because of its heartiness that helped the people in Europe survive the long harsh winters.  When I indulge in the recipes that our ancestors brought to this country, I find it is a continuation of remembrance and memories of long ago.
Please follow and like us: