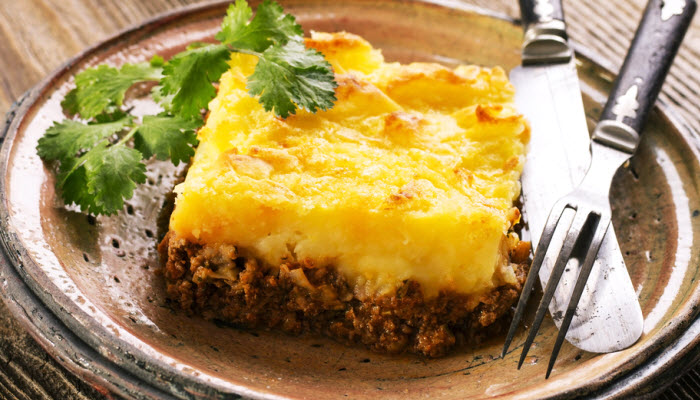 Creamy potatoes layered over zesty beef in a savory tomato sauce make Mom's Shepherd's Pie comfort food the whole family will enjoy.
The Backstory: Shepherd Pie, is one of my mom's Summer Specials.  That is the only time she felt she could serve this dish.  I'm going back to the 1950's here when Dad only wanted steak and potatoes.  Since he only came to the Bungalow Colony in the Catskill Mountains on weekends, this was mom's chance to cook what pleased her. To me, this dish was a treat. It was different from the meals we had most of the time since she only made it once or twice a year. More of the Backstory after the recipe…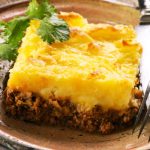 Shepherd's Pie
This hearty, savory, and delicious pie has a little bit of something for everyone. The golden crust of the potatoes and the aromas from the seasonings lets you know that your are in for something truly special.
Ingredients
1 1/2-2

lbs.

Kosher ground beef

3

large

potatoes, cut in medium chunks

1 1/2

cups

frozen peas

4+

ounces

tomato sauce

ketchup can be subsistuted

1/4

cup

water

2+

tbsp.

oil

1

tsp..

Kosher salt

1/4

tsp.

black pepper

1

garlic clove, minced

2+

tbsp.

pareve margarine

parsley and paprika

to garnish- optional
Instructions
Preheat oven to 350 degrees. Place potatoes into a large pot and add enough water to cover them. Boil on a medium heat. When soft, drain the potatoes and add 1/2 tsp. salt and margarine and mash the potatoes. Set aside.

In a large skillet add 2 tbsp. oil. Saute the onions, stirring often. When translucent add the ground beef and brown. Stir often. Add the garlic, salt, pepper, and the peas. Mix well. Add the tomato sauce and a little water and mix together. More water can be added if the mixture is too thick.

Spray a casserole dish with non-stick spray. Put the beef mixture on the bottom and spread evenly. Pour the potato mixture on top. Spread evenly, but do not combine with the beef. Drizzle a little oil on top. Bake for about 30 minutes or until the potatoes brown. Serve hot.
…The Backstory continues: Where she got a recipe for Shepherd's Pie, I don't know.  I do remember that when the plate was set before me I separated the layers. I guess, as a child, this is what was considered "playing with your food". I had to see what this was, but then again, it really didn't matter what it was because it tasted so good. The potatoes just melted in my mouth, and the meat was so yummy.This was so good that I wished mom would make this more often. Well, I may have played with my food, but I always finished every bite. And I still do.
Please follow and like us: