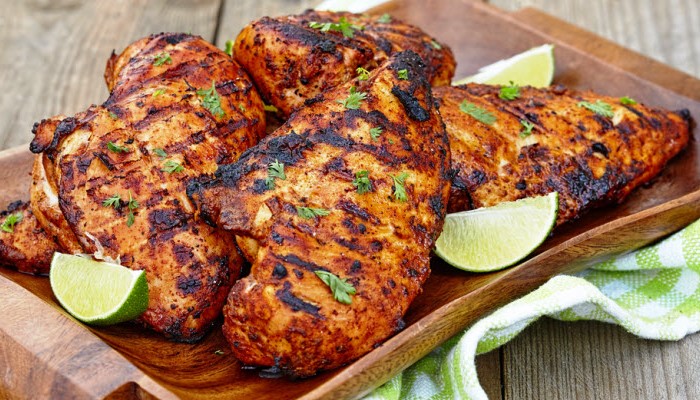 Bottled salad dressing flavors and tenderizes our marinated chicken for a foolfproof, go-to recipe that never fails. Perfect for company or Shabbat.
The Backstory: When I moved from an apartment to my own house, I cannot explain the joy I felt.  With my mind swimming with so many ideas, I had to figure out my priorities. I could not wait to cook on a grill. The first grill was an inexpensive one.  I put it together myself. It was round, no lid, just a grate across the top. Since we did not have a patio or any grass yet, this grill suited me fine. I sat cross-legged on the driveway of my garage. Tools in hand, it took a few minutes to assemble.  We purchased charcoal, matches and grilling tools.  I was so proud of this accomplishment. I also got a bad sunburn on my back doing this. Until we got the yard done, I grilled on that round cheap grill. More of the Backstory after the recipe…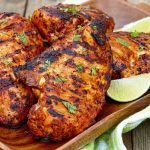 Marinated Chicken
Crispy and dark brown, this skin on this grilled chicken is very tasty while the chicken stays moist and juicy. The added twist to the bottled salad dressing gives the chicken a little extra zing.
Ingredients
1

4-5 lbs. Kosher chicken parts

all legs or breast can be used

1

8 ounce bottle of Kosher Italian Salad Dressig

2

ounces

canola or olive oil

1

tsp.

dried parsley flakes

1

garlic clove, minced

juice of half a lemon or lime

lemon or lime wedges for garnish

for garnish
Instructions
Place the chicken in a large deep container. Add the rest of the ingredients. Coat the chicken and cover and put in the refrigerator overnight or for at least 2 hours.

Preheat oven to 350 degrees. Drain the chicken, reserve the marinade, and put the chicken in a baking dish. Bake for about 40 minutes. Meanwhile, heat the grill and brush the rack with a little oil. On medium heat, place the chicken on the rack. Grill about 10+ minutes, turning at least once.

You can brush on some of the reserve marinade if needed. Check to see if the chicken is done by cutting into one of the pieces. Discard any marinade. Serve with potato salad and coleslaw. This makes for a perfect outdoor meal.
…The Backstory continues: One of the first things I cooked (besides a hot dog) was chicken.  Oh, how I fussed with the marinade and everything that I planned to serve.  A year later I had a patio, grass and two expensive grills that were attached.  No more charcoal. I had a gas line hook up. I cooked on that for over 20 years. But truth be told, I liked the first one better.  Grilled food should be cooked using real charcoal.  There's just no beating the flavor. In any case, this is the marinade I made for that first chicken some 40 plus years ago and I still use it today. It's delicious and foolproof, no matter what kind of grill you use.
Please follow and like us: