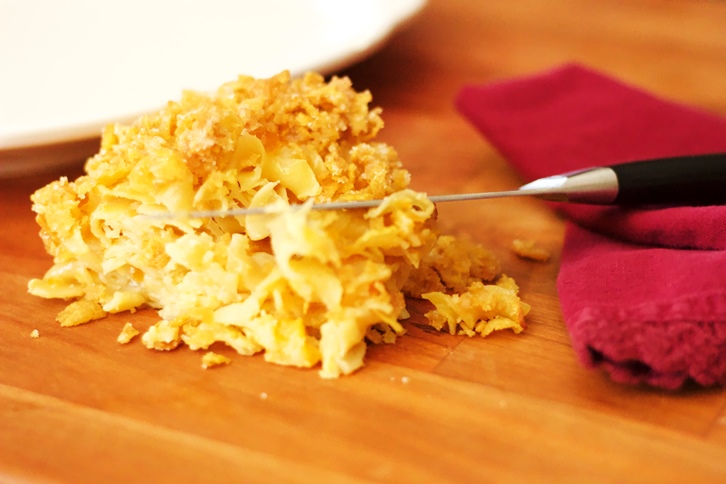 Mom's Perfect Kugel is my go-to kugel for every holiday. Apricot preserves, vanilla notes, and a crunchy, to-die-for topping, put it over the top. This is my most-requested recipe.
The Backstory: If you put five (or 50) Jewish women in a room and ask them, "Who makes the best kugel in your family?" the first problem you'd encounter is what they even call it. Some call it kugel, some call it noodle pudding, some won't even discuss it with you because if you stick around long enough to have this conversation, you'll likely be told that you don't know what you're talking about anyway. But what else is new? More of the Backstory after the recipe…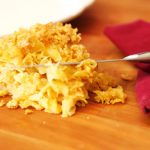 Mom's Perfect Kugel Pudding
A decadent noodle kugel filled with sweet chopped peaches and a delicate apricot preserves mixture. The kugel is covered with a crunchy crumb topping and is the perfect side dish for any holiday meal.
Total Time
1
hour
5
minutes
Ingredients
For the Topping
1 1/2

sticks

unsalted butter or margarine at room temperature

use margarine for Kosher cooking

1

cup

sugar

4 1/2

cups

Corn Flakes cereal
For the Noodle Pudding
1

lb.

wide or extra egg noodles

1

stick

unsalted butter or margarine at room temperature

use margarine for Kosher cooking

1

tsp.

pure vanilla extract

3

large

eggs

beaten

2

12 oz. jars

good quality apricot preserves

1

can

15 (approx) oz. sliced peaches, drained, cut into small pieces
Instructions
Preheat oven to 350 degrees. Butter or spray a 9 x 13 casserole dish with non-stick cooking spray and set aside.

Boil and drain noodles. Do not rinse. Put into a large bowl.

Add one stick of butter or margarine to the noodles and toss gently. Let cool slightly.

Gently add in preserves, and peaches and stir together. As noodles become cooler, slowly add in beaten eggs and lightly stir until combined. Add vanilla and stir again. Pour into prepared pan.
For the Topping
In a large bowl, combine the sugar, room temperature butter (or margarine), and Corn Flakes with your hands. (It's a messy job, but well worth it!) Crumble the butter, sugar, Corn Flakes together until well incorporated. Everything should come together in small pieces but not as finely crumbled as bread crumbs; there should still be lumps and pieces that look like a crumbly topping.

Pat the mixture lightly on top of the kugel until all the noodles are covered.

Bake uncovered for 45 minutes. Let cool for 15 minutes and dig in! This is delicious hot, warm, cold-- any way you like it. The best part: the bits and pieces that fall to the bottom of the baking dish. Don't say I didn't warn you!
…The Backstory continues: Lucky for you, you've got me, because I've got my mom's noodle kugel (given to her by her friend Sheila Berliner and then modified over the years by yours truly) which is the most delicious, decadent, slightly-gooey-on-the-inside, crunchy-on-top noodle pudding you've ever had, straight from my mother's kitchen. In my parents' house, we call it noodle pudding, but that's just tomato-tomahto semantics.
This is the side dish that's the first to go at every holiday gathering at my house and the dish that you and your friends will stand around your kitchen counter eating with your fingers right out of the pan (the tiny bits that are left of it) when you're supposed to be loading the dishwasher. It's the dish your girlfriends will beg you to never, ever make again (while they're eating it, of course) because it blows everyone's diet for the week, right on the spot.  And then they'll all happily take the leftovers home anyway. It's that good.
Enjoy. This is absolute perfection in a pan.
P.S. I make this regularly and cut it up into single servings, put them into sandwich zip top bags and store them in my freezer. Whenever I need a side dish, I whip out one or two and put them in the microwave on auto-defrost for about five minutes, and voila. In my house, we don't wait for holidays for kugel!
Please follow and like us: