The Backstory: What can one say about this Liver and Onion dish?  When liver is mentioned some people make faces. They don't like the name, so they won't try it.  They have no idea what they're missing. I've had liver in many different ways. This is one of the best tasting dishes in the liver family. More of the Backstory after the recipe…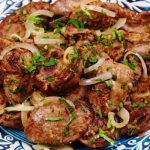 Liver, Onions and Gravy
Browned and smothered with onions and gravy, this dish just calls out to you and your taste buds. Add noodles, rice or mashed potatoes and let the gravy soak in.
Ingredients
2

lbs.

Kosher calves liver

or other livers can be substituted

3-4

tbsp.

oil

2

large sweet onions cut in rings

1/2

cup

all-purpose flour, divided

1/4 cup to dredge liver, 1/4 cup to cook onions later in recipe

1/4

cup

water

1/2

tsp.

Kosher salt

to taste

1/4

tsp.

freshly ground black pepper

to taste
Instructions
Mix 1/4 cup flour with salt and pepper. Dredge liver slices in the flour. Set aside.

Heat oil in large skillet on medium high heat. Add onions and saute till transparent. Remove from pan. Set aside.

Lower heat to medium low. Brown liver on both sides. Do not overcook. Remove from pan. Set aside.

Put onions back in pan and add 1 tablespoon flour.and little water and stir. Scrape up any bits of meat and mix in with the gravy. Use your judgment and add up to 1/4 cup of flour, a tablespoon at a time, and up to 1/4 cup of water, a little at a time, stirring constantly, until you achieve a gravy consistency. If it looks too thick, add a little water. If too thin, add a little flour. Once you achieve desired consistency, lower heat and cook for about 5 minutes.

Then add liver back to pan and cook for about 5+ minutes. Judge if it is done by cutting into liver. Liver should look slightly pink in the center.
…The Backstory continues: Of course chopped liver is so traditional in Jewish culture.  There was a time this was served at all important events at Jewish affairs.  What was a wedding if it didn't have liver for an appetizer?  At  home, and in many cultures, this recipe is used.  It may have variations in the way it is cooked but liver, onions and gravy is still a favorite among all people in all walks of life. This dish is also listed on many diner menus. So it must be something special.  You will probably find this tasty dish to be something special  to you.
Please follow and like us: