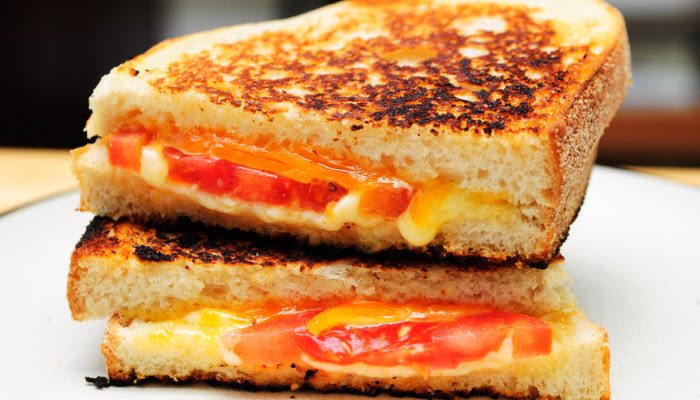 Lite Grilled Cheese Sandwich
This lite grilled cheese sandwich is so delicious, you'll never miss the extra fat or calories. Better yet–it takes just minutes to make.
The Backstory: Okay, okay, no one likes the word diet or lo-cal. So let's think of this as a lite grilled cheese sandwich, because the truth is, it's so tasty, cheesy and delicious, you'll love it no matter what it's called. More of the Backstory after the recipe…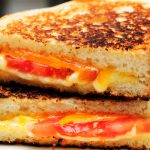 Lite Grilled Cheese Sandwich
The cheese is hot and dripping out of the sandwich, while the bread is a little soft but there is still some crunchiness. Add tomato and red onion to enhance the flavor.
Ingredients
2

slices of reduced calorie wheat or white bread

or your choice of bread

1-2

slices of fresh American cheese

or your choice of cheese

1

large slice of tomato

optional

1

slice red onion

optional

freshly ground black pepper

1/2

tsp.

margarine
Instructions
Toast the bread, ( about 2 minutes or until golden) and let cool for a few seconds. Place one slice of bread in center of a piece of paper towel. Add 1-2 slices of cheese. Add the tomato and the onion, sprinkle with black pepper to taste.

Smear a little margarine on the 2nd piece of bread. Place of top, with the margarine side facing you. Wrap the sandwich up. Press down, and put in microwave for about 20 seconds.

Remember the cheese will be very hot so be careful undoing the paper towel. Cut in half.
…The Backstory continues: Grilled cheese sandwiches are a staple on every diner and Kosher restaurant menu.  This classic sandwich is usually a go-to choice when you want something comforting to eat, yet you can't make up your mind. When I want to order this yet keep it lo- cal, I often select whole wheat bread and ask the server if I can get it with less cheese. I also prepare it this way when I am home.  I am always looking for ways to lower my calorie intake. I find this a very satisfying way to enjoy classic comfort foods recipes while keeping most of the flavors from the original.
My fast way of preparing this classic sandwich involves toasting and using the microwave (saves on the frying and use of margarine and butter) and is just as delicious as if you did it on the stove top. Add a green salad, some soup, and it will complete your meal. You will definitely feel satisfied and your lite lunch/dinner will keep you going for many hours. Whichever way you chose, have a wonderful classic sandwich with a twist.
Please follow and like us: