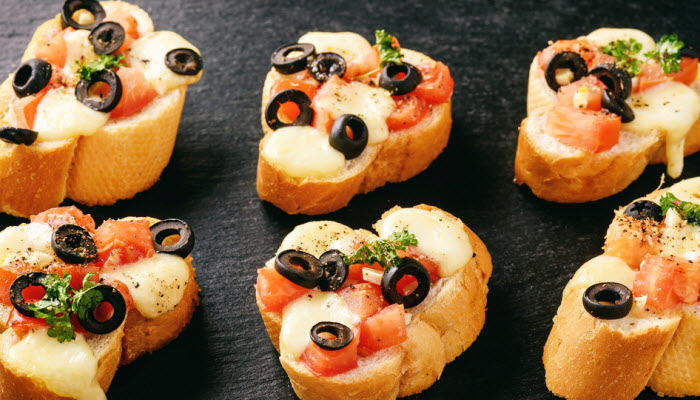 Kosher Bruschetta has all the gooey, cheesy, flavorful zing of Italian Bruschetta, and this recipe can be made in ten minutes or less!
The Backstory: Even though we may think of Kosher Bruschetta as a misnomer, after all, Bruschetta is an Italian appetizer, I have tweaked this recipe to make a Kosher version of it and it is absolutely delicious and just as crowd-pleasing!  By using Kosher products, this can be adopted to fit our dietary laws.  More of the Backstory after the recipe…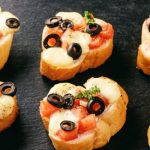 Bruschetta Appetizer
If lightly toasting the bread, it should be very crunchy. The tanginess of the cheese and the little salt from the olives are a perfect pairing for your taste buds.

Prep Time 10 minutes

Cook Time 3 minutes

Total Time 13 minutes
Ingredients
1 loaf Italian bread or French baguette or bread of your choice cut on the diagonal 1/2 inch slices
1+ cups Kosher shredded mozzarella
6+ ounces Black Olives cut into slices
grape tomatoes cut into small chunks (optional)
olive oil to drizzle
chopped fresh basil leaves to garnish
2+ garlic cloves peeled
Instructions
Preheat the oven to 300 degrees. Place the bread slices on a baking sheet lined with parchment paper. Rub garlic over the bread and drizzle with a little olive oil. Bake for a few minutes until the bread is lightly toasted.

Remove from oven and drizzle a little olive oil on the toast. Sprinkle mozzarella on top of the bread rounds. Return to oven for 2-3 minutes until cheese melts. Remove from oven and garnish with tomatoes, sliced olives and chopped basil.

Arrange on serving platter and serve. Enjoy!
Whenever I need an appetizer for a party, Kosher Bruschetta often pops up in my mind. While I don't typically make this for Jewish holidays, when I'm having a cocktail or dinner party, it's often one of the top appetizers that come to my mind. On those occasions, I look for a few appetizers that I can make myself and several that are store bought, so I can spend less time in the kitchen and more time with my guests. So long as I can feel good about using quality ingredients and I know that I'm serving kosher prepared foods, I'm all set to go. This also gives me some peace of mind to not be so stressed and rushing around, trying to get everything done (and all homemade).There's nothing wrong with a little mixing and matching from your favorite kosher deli or catering place! …The Backstory continues: 
This recipe is extremely flexible. I like using a fresh Italian bread or a French baguette, but you can also absolutely use other breads for this recipe including Challah, Cuban bread, or plain rye bread cut in into small pieces.  The topping ingredients can also be changed to suit your tastes as well, so feel free to change up the herbs, vegetables or cheese. One thing you can be sure of is that this is one appetizer your guests will devour and there won't be a single slice left over!
Please follow and like us: