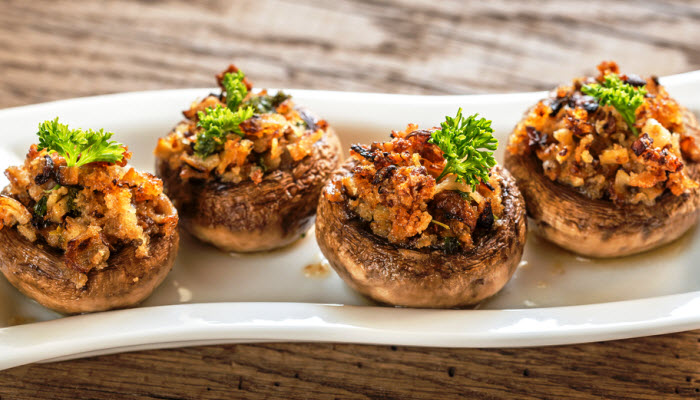 Lisa's Stuffed Mushroom Appetizers
Delicious, two-bite stuffed mushroom appetizers that will be the first to go at your next party.
The Backstory: This classic party appetizer comes to The Jewish Kitchen courtesy of my friend Lisa Dunne, a fabulous cook, fellow Temple Emanuel and Sisterhood member, and one of the very first people I met when I moved to Andover, Massachusetts in the mid 2000s. This recipe was originally published in the Temple's Sisterhood cookbook, From Bubbie's Blintzes To Our Gourmet Dishes, back in 2006, and I'm so grateful to Lisa for permission to share it with you here.  More of the Backstory after the recipe…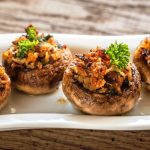 Lisa's Stuffed Mushrooms
Savory stuffed mushrooms are the perfect two-bite appetizers. Perfect for parties and holiday gatherings, they're always a hit. Make the filling ahead and stuff the mushrooms right before guests arrive for an easy appetizer you can pull off in minutes.
Ingredients
1/2

lb.

medium mushrooms

1/3

cup

dried breadcrumbs

2

green onions, chopped

1/4

cup

margarine, melted

1/2

cup

Cheddar or Romano cheese, grated

splash of white wine

1/2

tsp.

Italian seasoning

1/2

tsp.

Kosher salt

1/4

tsp.

garlic powder

1/2

tsp.

Worcestershire sauce

black pepper

to taste
Instructions
Remove stems from mushrooms. Chop mushroom stems. Combine stems and all ingredients except mushroom caps. Fill caps with mixture and put on round microwave plate. Cook on high for 4 1/2 minutes OR cook at 350 degrees for about 10-12 minutes on a cookie sheet in in the oven.
…The Backstory continues: I don't know anyone who doesn't love stuffed mushrooms. What's not to love? Tender earthy mushrooms, savory, buttery, cheesy, crumbly stuffing, and a dish that is always a crowd-pleaser. What's wonderful about Lisa's recipe is that you can actually make this in the microwave. You read correctly–stuffed mushrooms in the microwave. So whether you choose to do that or go the old-fashioned route (also detailed below), these only cook for a maximum of 12 minutes. The stuffing can be made ahead and the entire dish pulls together in minutes. That's my kind of entertaining.
Please follow and like us: