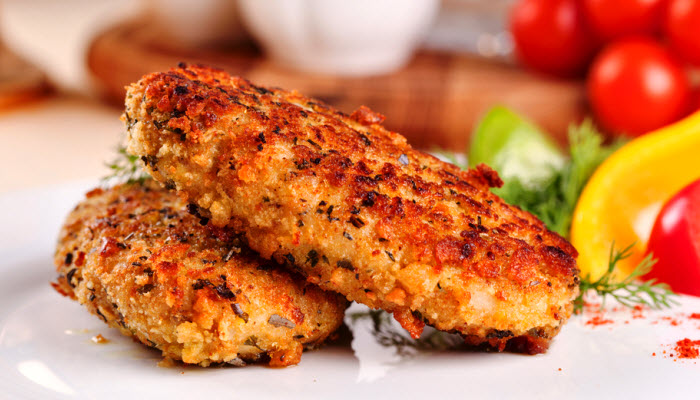 Kosher crispy fish cakes are perfect as an appetizer, first course, or main dish. Don't forget the lemon wedges!
The Backstory: This is one of those old-fashioned recipes that you'll probably remember from childhood. These kosher crispy fish cakes are made with flaked white fish and mashed potatoes (remember now?) and are crispy, crunchy on the outside, and velvety smooth on the inside, almost like a knish. They are perfectly seasoned, savory, and truly delicious. Think of them as an alternative to crab cakes and of course, Kosher, if you are observant. More of the Backstory after the recipe…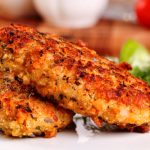 Crispy Fish Cakes
These delicious fish cakes are crispy on the outside and creamy on the inside due to their surprise ingredient: mashed potatoes. Perfect as party appetizers, a first course, or as the main dish with a tossed salad.
Total Time
2
hours
25
minutes
Ingredients
2

cups

flaked, cooked cod (or other white fish)

2

cups

mashed potatoes

2

tbsp.

melted butter, unsalted

1/2

cup

milk

2

eggs, beaten

2

tsp.

Kosher salt

1/2

tsp.

freshly ground black pepper

2-3

tbsp.

canola or vegetable oil

lemon wedges (optional)

tartar sauce (optional)
Instructions
In a large mixing bowl, gently combine all ingredients (except canola oil, lemon wedges and tartar sauce). Mix until everything is combined. With your hands, form 8 fish cakes and put them on a plate. Refrigerate for 2 hours to allow the cakes to set and chill.

In a large skillet, heat canola or vegetable oil on medium heat. Fry each cake until golden brown on both sides, approximately 4 minutes per side. Drain on paper towels to remove excess oil. Serve with lemon wedges and tartar sauce.
Recipe Notes
NOTE: This recipe will make 8 medium size fish cakes or 16 appetizer size cakes.
…The Backstory continues: They're perfect finger foods for parties, loved by kids (my son, Morgan, gave them two thumbs up when he was about two years old and still in his high chair), yet they will satisfy grown up tastes. I started experimenting with this recipe when he was a baby, and I was making him fish stick and homemade baby foods such as pureed butternut squash and mashed potatoes, which I would freeze in small containers. One day I happened to be making fish sticks and potatoes on the same night, and well, you can figure out the rest.
One note: once you prepare the fish cakes, they need to set in the fridge for 2 hours to chill before you fry them up, so make them ahead of time and go about the rest of your day. You can keep them in there longer too, but they do need 2 hours to firm up.
I serve these with lemon wedges, tartar sauce, and big bowls of salad, fresh corn on the cob, and coleslaw. It's all good.
Please follow and like us: