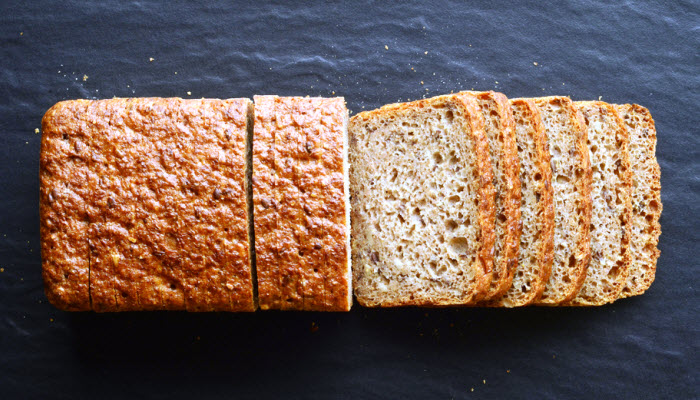 Homemade Whole Wheat Bread
Homemade whole wheat bread is earthy, nutritious, and delicious, and these loaves smell oh so good while baking.
The Backstory: Whenever I think of wheat bread, I am reminded of my endless dieting days.  We gals often think of this type of bread as diet food. But it really isn't. It is just smart, healthy eating. And who doesn't want to eat right and teach our family to do the same? But it is not the bread that helps us put on the pounds, it is what goes on the bread. That's where the trouble begins. We reach for the bread, take it out of the wrapper and place it on a plate. Yes, we know what we should reach for from the fridge. As our mind wonders over all the goodies, a voice in our head says NO. Leave the cheese and just have a slice of toast. But what do we do? Well, let's just leave it at that, shall we? More of the Backstory after the recipe…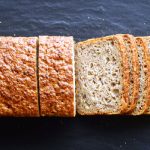 Homemade Whole Wheat Bread
Home-baked bread gives off an aroma like nothing else. Although this bread is pale brown in color, don't be fooled by that. There is a load of goodness from the delicious honey in this recipe. You can also add raisins and nuts to add even more texture, chewiness and flavor.
Total Time
4
hours
20
minutes
Ingredients
1/2

tbsp.

dry active yeast

1 1/2

cups

lukewarm water

1 1/2

cups

whole wheat flour

1

large egg

6

ounces

honey

6

ounces

corn oil

1/2

cup

raisins and chopped

optional
Instructions
In a medium bowl, mix together yeast, water, flour, and honey. Let this rise for 10-15 minutes. Set aside. Mixture will be watery. Then add the egg and oil. (If adding the raisins and nuts, do it now.)

Knead the dough for 10 minutes. Cover and let it rest for 1 hour. On a floured flat surface knead the dough for 5 minutes. Put dough into a loaf pan and cover. Let it rise for 2 more hours. The dough will double in size.

Preheat oven to 350 degrees and bake for 1 hour. Remove and cool on a rack. Do not slice until it is completely cool.
…The Backstory continues: This delicious recipe however, is the opposite of dry, store-bought wheat bread. Our homemade whole wheat bread is well worth the time it takes to make the dough and go through the multiple rising processes. Baking bread–good bread–from scratch is an art that takes time to master, but once you do, you'll be hard-pressed to buy anything but good bakery loaves or start baking them on your own.
Please follow and like us: