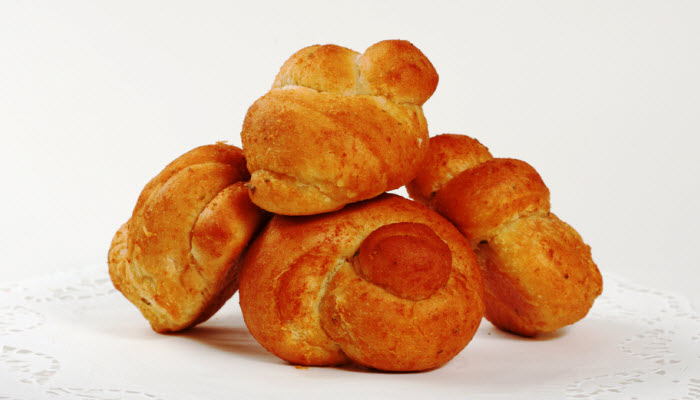 Buttery twist rolls turn out soft, slightly chewy, and delicious every time. They work for every meal and look beautiful on a Shabbat or holiday table.
The Backstory: This little bit of a heavenly recipe for buttery twist rolls has been around for ages.  It has been in my stack of recipes for years. No, decades would be more appropriate.  Being a bread lover and doing some research, I found that almost all cultures make this type of basic dough and just add ingredients indicative of their regions, religions and local practices. Add-ons can be any herb, seasoning, or vegetable like onions, garlic, or whatever you like. More of the Backstory after the recipe…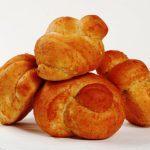 Buttery Sweet Rolls
These golden rolls smell and taste amazing. They are buttery and soft on the inside and slightly crusty on the outside. They are the perfect compliment to any meal and are also delicious for dipping in soups or sauces.
Total Time
2
hours
50
minutes
Ingredients
1

package dry active yeast

1/4

cup

whole milk at room temperature

1/4

cup

tepid water

1/4

cup

white sugar

2

tsp.

honey

optional

1

egg

1

tsp.

Kosher salt

1/2

stick butter at room temperature

2 1/4 +

cups

flour, sifted

divided

1

tbsp.

chopped, onions, garlic, or any herb

these are all optional

1

egg yolk, beaten

1

tbsp.

water
Instructions
In a large bowl place the yeast and water. Stir until the yeast is dissolved. Add the milk, salt, egg, sugar, and honey (if using the honey). Slowly beat in 1 3/4 cups of flour. After this has been incorporated, add butter and 1/4 cup of flour. Mix to combine all.

On a flat surface, place a baking cloth or a board and put the remaining 1/4 cup of flour on the board or cloth. Put the dough on the flour and knead for about 10 minutes. When dough is smooth and shiny looking, it can be put back into the lightly greased bowl.

Cover bowl with a clean cloth and let rest in a warm place for 1 hour. The dough should double in size. After the hour remove cover and punch down the dough in a few spots and knead for about 2-3 minutes. Set aside. Take 2 baking sheets and line with parchment paper and spread some butter on the surface. Set aside. Now, cut the dough into 12 even pieces.

On a floured surface roll out each piece using the palms of your hands into 8 inch strips. Then cut each strip in half. Twist each piece into a knot and place on the baking sheet. They should be placed 1 inch apart. When all the twisted rolls are on the baking sheets, brush the tops with a mixture of 1 beaten egg yolk and 1 tbsp. water.

Let this rest for 1 hour, (uncovered). Preheat oven to 375 degrees. After an hour bake for 20 minutes. Cool slightly before serving.
…The Backstory continues: This is a stand alone recipe. Anytime I am in a restaurant and there is bread on the table, I am hooked. I am usually good for at least three or four rolls. I am not joking. If a salad is next, I know I will not be able to eat some of the main course.  More than likely I will be taking home a doggie bag. I know, what your thinking, Oh, she's one of those people, she'll have a meal for another day, so the price of dinner is 2 for 1. Never happen, a lot of times the leftovers end up in the garbage. But I don't mind–I had my rolls and butter! 
Please follow and like us: