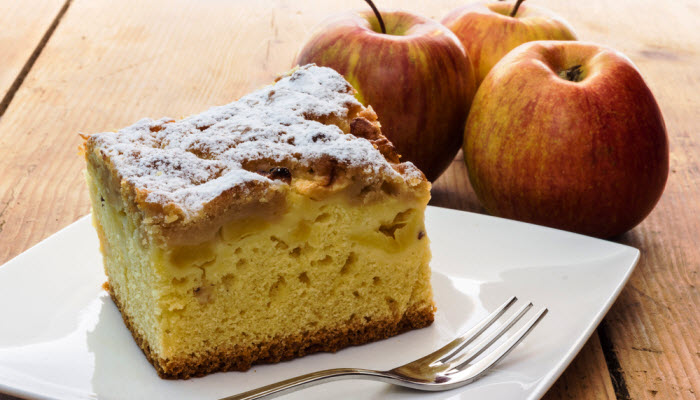 Invite your friends over for this delicious aromatic cake and a steaming cup of coffee.
The Backstory: Gloria and I met in 1986.  We were each on a vacation with our husbands in the Dominican Republic. I must write about the people we encountered because they were just about the friendliest and kindest people you will ever meet.  This was our second trip to the island and we saw some of the people we had met previously.  One of these women had pictures of us with them. She was so glad that we made the time to stop and say hello the second time around. But back to what I was writing about: Gloria. More of the Backstory after the recipe…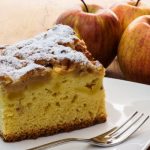 Gloria's Apple Cake
This is the perfect apple cake for Rosh Hashanah, Yom Kippur and Sunday brunch. The sweetness of the apples and the rich cinnamon are a perfect counterpart to the light, moist cake.
Total Time
1
hour
15
minutes
Ingredients
3

cups

all-purpose flour

2

cups

sugar

3

tsp.

baking soda

2 1/2

tsp.

pure vanilla extract

1

cup

canola or vegetable oil

1/4

cup

orange juice

4

eggs, beaten

4

large

Granny Smith apples

cut into medium size chunks

1

tsp.

cinnamon

1

tsp.

sugar

Confectioner's sugar for dusting (optional)
Instructions
Preheat oven to 350 degrees. Mix together the flour, baking powder, vanilla, oil, orange juice and the eggs. Set aside. Mix cinnamon and sugar together. Set aside

Core, peel and cut apples into medium size chunks.

Grease a 9.5 x 13 inch baking dish. Pour 1/2 batter into baking dish. Put 1/2 of the apples on top of the batter. Sprinkle 1/2 of the cinnamon and sugar on top of the apples. Pour rest of the batter on top of the cinnamon and sugar. Put the rest of the apples on top, and sprinkle the rest of the cinnamon and sugar on top.

Bake for 1 1/4 hours. Check to see if it is done by inserting a toothpick in the middle of the cake. If the toothpick does not come out clean, cook for another 15 minutes.

Remove and let cool before serving. Dust with Confectioner's sugar before serving (optional).
…The Backstory continues: We hit it off from day one. Usually when you meet someone on vacation you enjoy their company, with a promise to keep in touch once you are on your own turf (but rarely do you keep that promise). But I just knew that we would remain friends.  We girls got along famously; the guys, not so much. But it made for fun times together.  We are very close friends to this day (30 years later!) and I could not imagine not having her in my life. My husband and I were entertained in their home many times over the years.  She is a great cook, even though she doesn't think so.  As good as a cook that she is, she is an excellent baker. The recipe below is one of my favorites.  I know you will enjoy it as much as we did.
This is the perfect go-to cake for company, brunch, or any time you just want to make a little something special for friends or family. Once it starts baking, the smell that will fill your kitchen is not to be believed.
Please follow and like us: