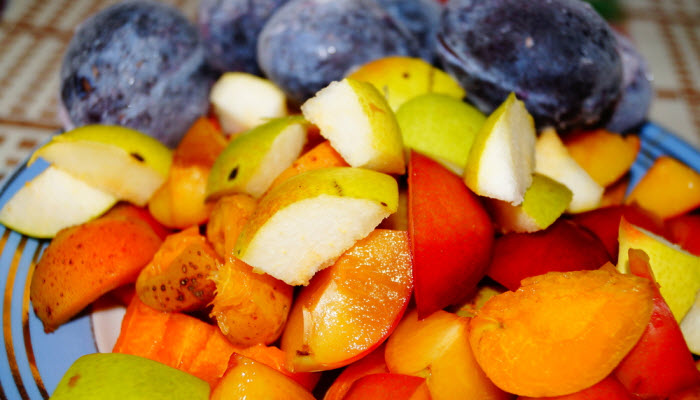 Juicy fruit compote is the easiest way to showcase ripe fruit or use fruit that's about to turn overripe. Add a dollop of fresh whipped cream and enjoy!
The Backstory: Fruit Compote is one of the easiest dishes to put together. Not only is it tasty but it stores well in the refrigerator for several days. I first had fruit compote as a child.  Mom usually made this with plums and turned it into tender stewed plums. Occasionally she would add other fruits like peaches or nectarines. Fast forward a few decades and I'd often find myself with a lot of leftover fruit that was starting to go soft and become overripe. It was either going to be trashed (which I could not allow!) or I had to come up with a recipe.  Remembering mom's dish, I knew it was time to improvise. And I did end up making an amazing dessert. This can be prepared all year around with any seasonal fruit you enjoy. To make it extra special, add a dollop of whipped cream and wow your family and friends with this fresh and juicy dessert. More of the Backstory after the recipe…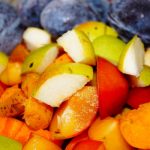 Fruit Compote
Colorful, from all the different fruits. The taste comes from the distinct flavors when the fruits are combined. A hint of cinnamon and nutmeg brings it all over the top. What more can you add to this wonderful dessert.
Ingredients
3

Pears, cored

sliced into wedges

3

Apples, cored

sliced into wedges

4

large plums

pitted, cut in 1/2

4

large Peaches

pitted and cut into 1/4s

4

large Nectarines

pitted and cut in 1/4s

6

large Appricots

pitted and cut in 1/2

1

large Orange

cut into thick slices

1/2

cup

brown sugar, packed

1/4

tsp.

cinnamon

to taste

1/8

tsp.

ground nutmeg

fresh can be used, to taste

1

cup

whipping cream

optional

1

tsp

sugar
Instructions
For the Fruit Compote
Put all fruit into a large pot. Add water to cover. Cook about 10 minutes, stirring occasionally. Add the cinnamon and nutmeg to taste. Cook about 10 minutes until the fruit is soft but not mushy.

Cool and refrigerate until ready to serve.
For the Whipped Cream
Just before serving, in the bowl of an standing mixer using the whisk attachment or with a handheld mixer, beat the whipping cream on high for a few minutes until stiff peaks form. Slowly add the sugar (you can use a little more or less, based on how sweet you like it), as the peaks begin to get stiff). Serve immediately on top or on the side of the fruit.
Please follow and like us: