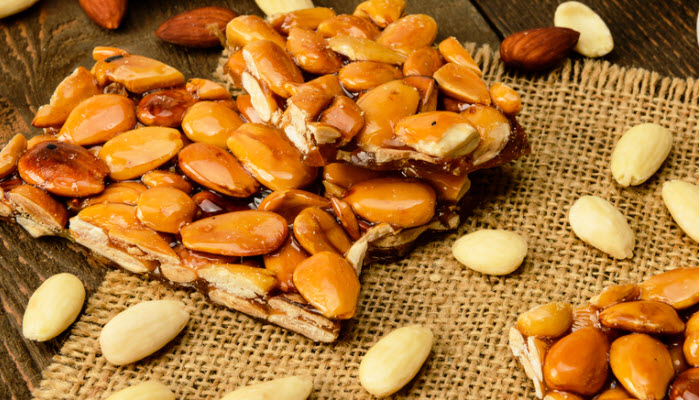 Nutty, buttery, and truly addicting, our cinnamon almond brittle is crunchy, sweet, and packed with nuts and cinnamon. You won't be able to stop nibbling!
The Backstory: Recently my friend Lorraine gave me a recipe for Torrone Candy. Something did not sit right with me.  The name sounded Italian, yet the ingredients reminded me of something else–peanut brittle. Of course it sounded familiar, my mom made this  a few times. when I was growing up. I remember waiting for this to cool so she could break it into pieces. And how we kids loved this sweet treat. But back to my conversation about this recipe with Lorraine, she said she  had gotten it ages ago from an Italian friend who said she made it primarily for Christmas, to give as a gifts to friends and family.  The more she  told me, the more I kept getting a feeling that this probably was something that was prepared in the Mediterranean region. Lorraine's background is so diverse. Here parents were from Egypt and Palestine, by way of Syria. They migrated to America almost a hundred years ago. They brought a treasure trove of recipes which she has shared with me. And now I pass  this delicious one on to you. More of the Backstory after the recipe…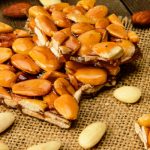 Cinnamon Almond Brittle
Sweet and mouth watering, the almonds and sugar are enhanced by the rich cinnamon taste. The little bit of sticky fingers from eating this is well worth it.
Ingredients
1

lb.

whole almonds

or almond pieces

1

cup

sugar

1/8

cup

water

1

2 inch cinnamon stick

break into small pieces

chocolate sprinkles

optional
Instructions
Heat oven to 250 degrees. Put almonds on a baking sheet pan and just warm in the oven about 5 minutes, if using whole almonds. Less time for almond pieces. Do nut burn the nuts. Set aside. Grease another baking sheet pan and set aside.

In a heavy pot, add the sugar and water. Stir, using only a wooden spoon for this whole process. Set aside. When sugar is diluted and bubbly, add the almonds and keep stirring. Sugar will get hard around the almonds, but as you keep stirring it will melt again. It will turn brown. Add the cinnamon and stir again.

Pour the mixture onto the greased baking sheet pan. At this point you can add the sprinkles or any candy of your choice. Let cool before breaking this into pieces and serve.
Please follow and like us: