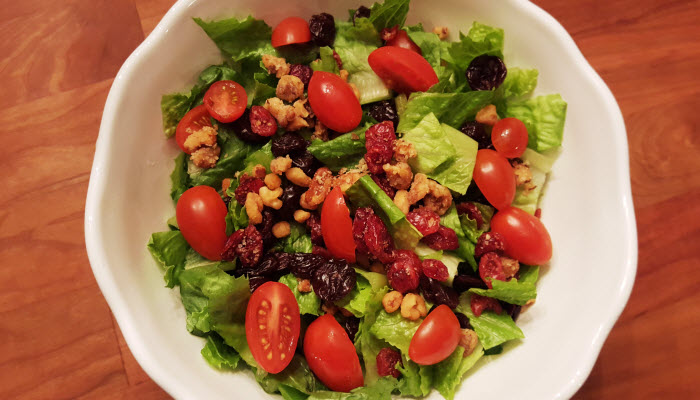 Fall Salad with Dried Cranberries and Candied Walnuts
This delicious fall salad with dried cranberries and candied walnuts is tart, sweet and a perfect first course.
The Backstory: I have always been a fan of what I call fall salads with dried cranberries and candied nuts. These salads use hearty lettuces that can stand up to a little bit of tossing when it's time to combine everything together. I love having fruit in my salad and in the spring and summer I always add sliced strawberries or mandarin oranges to my salads, but come the cooler months, for some reason, I reach for a handful of dried fruits and nuts. "Tis the season or something like that. More of the Backstory after the recipe…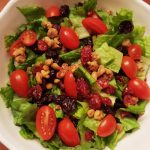 Spinach Salad with Strawberries and Goat Cheese
Sweet strawberries, candied walnuts and creamy goat cheese top crisp spinach leaves for a delicious salad that's perfect as a first course. Add grilled chicken, salmon, or shrimp for a heartier meal.
Ingredients
2

heads or bunches of Romaine lettuce

or any sturdy salad green you prefer

1/4

cup

dried cherries

1/4

cup

dried cranberries

1/3

cup

candied walnuts

1

cup

teardrop tomatoes, cut in half

2/3

cup

olive oil

2

tsp.

sugar

1

tsp.

dry mustard

1

tsp.

Kosher salt

1/4

tsp.

freshly ground black pepper
Instructions
Wash and thoroughly dry lettuce and cut into bite sized pieces. Place in large serving bowl.

Grate lemon to get 2 teaspoons of zest and set aside. Squeeze juice from lemon to get 1/4 cup juice and whisk juice, zest, and olive oil in small bowl. Add sugar, dry mustard, salt and pepper. Taste and adjust salt and pepper if necessary.

Pour half of dressing over the lettuce leaves and add more as necessary. Add walnuts, cherries, cranberries and tomatoes and gently toss everything together. Serve immediately with extra dressing on the side.
…The Backstory continues: This fall salad is really simple and truly delicious. The dried cranberries and tart cherries are balanced by the sweetness of the tomatoes and there are so many wonderful textures in this simple mix, that this is the salad I find myself turning to again and again when I need to pull something together quickly. It's also a perfect base for sliced chicken or turkey, and voila, you've got a wonderful lunch or dinner ready to go.
Please follow and like us: