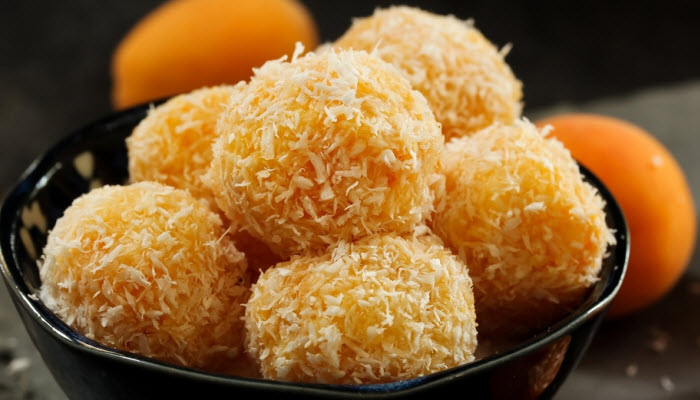 Evy's Apricot Coconut Balls
Evy's apricot coconut balls are sweet, chewy confections that taste as good as they look. Perfect for a shower, holiday buffet or party favor.
The Backstory: Evy's apricot coconut balls come to The Jewish kitchen from Evy Gold, a friend of my mother-in-law from her former temple in Newton, Massachusetts. Once again, the gift of passing treasured recipes down through the generations has bestowed us with yet another fine confection, and one that I am certain to make for my next holiday celebration. The combination of sweetened condensed milk, dried apricots and coconut (my favorite), is too tempting for me to pass up. Plus, I love any dessert that lends itself to buffet-like serving. Roll these beauties out, place them in pretty mini-muffin liners on a silver platter, and let the kids and grown-ups serve themselves. My kind of entertaining.…The Backstory continues: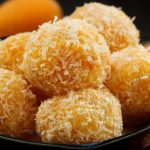 Evy's Apricot Coconut Balls
These rich, chewy, two-bite treats are sweet, and delicious and have the most wonderful texture. They also look beautiful on a silver tray for the holidays or in mini-muffin liners on a platter on your buffet table.
Total Time
1
hour
30
minutes
Ingredients
1

6 oz, bag dried apricots

1

7 oz. bag flaked coconut

1

14 oz. can sweetened condensed milk
Instructions
Place apricots and coconut in a food processor with a fine blade, process until smooth. Pour in condensed milk and grind again until well combined.

Refrigerate mixture for an hour. With damp hands roll into 1/2 inch balls. Bake at 350 degrees on a greased cookie sheet for 15 minutes.
Please follow and like us: