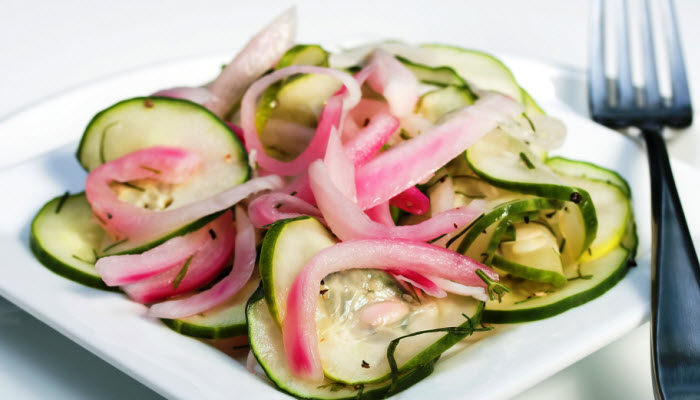 Cucumber, Onion, and Dill Salad
Cucumber, onion, and dill salad is tart, crisp, and fresh, just like it came right from your favorite New York appetizing counter.
The Backstory: Whenever I have leftover cucumbers, I make cucumber, onion,and dill salad.  I am a big fan of this easy-to-prepare side dish.  My mother made this all time and my dad loved the tartness of the cucumbers and the onions.  I follow in my mom's foot steps.  I usually have this with meat or poultry.  I find it is also a great companion with a sandwich.  I hope you enjoy it as much as I do. More of the Backstory after the recipe…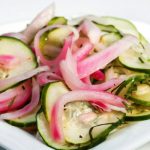 Cucumber, Onion, Dill Salad
This cool, crisp salad has a sweet and savory flavor profile that makes it irresistible. Even better, it's crunchy, healthy, and takes all of 10 minutes to make.
Ingredients
1

large cucumber, peeled and sliced into small rings

1/2

cup

onions, sliced thin

1-2

tsp.

fresh dill

crushed dried dill can be used.

1/2

tbsp.

white sugar

to taste

1/2

tsp.

Kosher salt

to taste

1/4

cup

white vinegar

to taste

1

cup

cold water
Instructions
In a glass jar, with a lid, combine the vinegar, salt and sugar. Close jar and shake vigorously. Open jar and taste, adjust seasonings to your taste.

Add the sliced cucumbers and onions, and dill. Close lid and shake again. Check to see that all the ingredients are blended. Store in refrigerator, and shake the jar occasionally until ready to serve.
Please follow and like us: