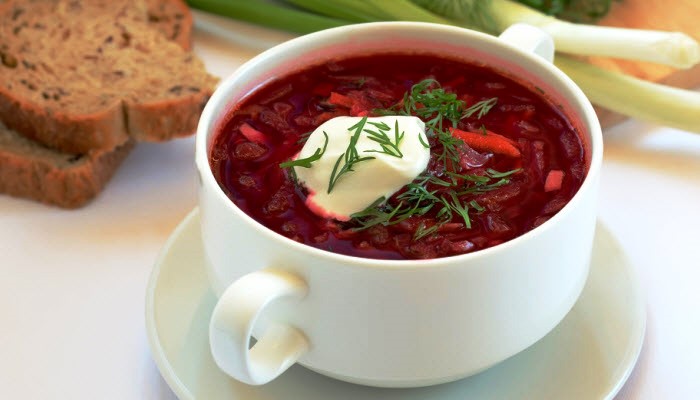 The Backstory: I vividly remember my mother preparing Borscht.  But instead of serving this as a soup, she served it to my dad in a glass. My mom did not make this from scratch.  She usually had a cold bottle of store-brought borscht and she doctored it up. She added an uncooked egg to the bottle, shook it vigorously and poured it into the glass.  I would not taste it because of the raw egg. How my father drank that, I'll never know, but he did and he loved it.  More of the Backstory after the recipe…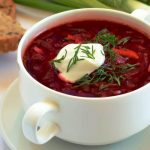 Borsch Soup
Cold or hot this soup looks so inviting. And the rich taste of the beets and the savory spiced with a hint of the sugar is pleasing to the palate.
Total Time
1
hour
30
minutes
Ingredients
10

large beets, peeled, washed and grated

2 1/2

quarts

water

1

minced onion

3

tbsp.

sugar

juice of 2 lemons

1

garlic cloves, minced

2

beaten egg

optional

8

small potaoes, boiled

optional

1

cup

sour cream

garnish

1

tsp.

Kosher salt
Instructions
Place the beets, water, salt, onions and garlic in a large pot. Bring to a boil, then cook on low heat for 1 hour. Add the lemon and sugar and cook for another 10 minutes.

Remove from heat. At this point if you want to add the egg, do so gradually but stirring constantly. Keep stirring to prevent the egg from curdling. Check seasonings. When cool, refrigerate. Serve cold and add a small potato and a dollop of sour cream.
…The Backstory continues: In researching recipes, I found a few recipes that still used raw eggs. These modern versions of borscht don't normally call for using raw eggs and with a few exceptions, most other recipes don't call for it either. Yet, on occasion, we do digest uncooked beef and raw eggs (think: Steak Tartare). Go figure.
Years ago, I went to a well-known restaurant that served Jewish foods and I ordered the Borscht soup with a dollop of sour cream.  It was delicious. I had that soup many times after that.  But I never inquired if it was prepared with the raw egg.  I just did not want to know.  It was that good.
Please follow and like us: