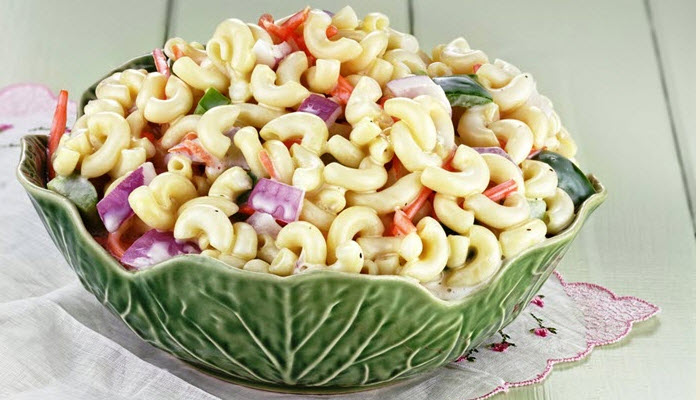 What's a picnic without classic macaroni salad? Our version is delicious, easy to make and is the perfect balance of creamy and zesty.
The Backstory: : What would a picnic or deli sandwich be without a scoop of…macaroni salad? I know, I know, it's not a pickle or potato salad, or even coleslaw or a knish, but I have a confession to make: if it's done just right, I am a macaroni salad girl. That's just how I roll. More of the Backstory after the recipe…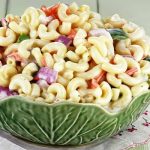 Classic Macaroni Salad
Creamy macaroni salad gets a crunchy kick from celery, bell peppers, carrots, red onions and hint of twang from cider vinegar. Double the batch for your next outdoor party.
Ingredients
2

cups

dry elbow macaroni, cooked, drained, and then rinsed in cold water and drained again

1/3

cup

diced celery

1/4

cup

minced red onion

1/4

cup

shredded carrots

1/3

cup

red or green bell pepper, chopped

1/2

cup

mayonnaise

3/4

tsp.

dry mustard

1 1/2

tsp.

sugar

1 1/2

tbsp.

cider vinegar

3

tbsp.

sour cream

regular or light

1/2

tsp.

Kosher salt

freshly ground black pepper

1

tbsp.

fresh parsley, chopped
Instructions
Cook the macaroni and drain well. Rinse with cold water and drain again. Place in a large bowl and add celery, carrots, chopped pepper, onion and parsley.

In a small bowl, whisk together the mayonnaise, dry mustard, vinegar, sugar, sour cream and salt. Pour dressing over macaroni and toss to coat well.

Season with salt and pepper to taste. Adjust seasoning if necessary.

Serve or store in refrigerator until ready to serve. Can be stored (covered) in fridge for up to 2 days.
…The Backstory continues: I don't know what it is, but growing up in New York, with amazing access to the best delis in town, you get, well, the best of the best. And even outside of the city (I grew up in Brooklyn and later, Staten Island), we always had fabulous deli's, which is the blanket term a Jewish person uses for just about anything that comes from a deli, whether it's pastrami, kishka, rugellach or even the macaroni salad. Or as my mother would call it "the salads." I could just hear her "They (insert your favorite deli name) have fabulous salads. Always good. I don't bother with the supermarket."
This macaroni salad is the perfect combination of creamy and crunchy with a hint of tang from cider vinegar. The proportions below make six servings but if you're cooking for a crowd or hosting a large barbecue, double the recipe because this is one of those dishes that's foolproof and always goes quickly. "Fabulous," my mom would say. "Out of the bowl I could eat this one."
Sorry Mom 🙂
If serving with meat (and you adhere to Kosher dietary rules), eliminate the sour cream and substitute with regular of light mayonnaise (Hellmann's is a Pareve product which will work).
Please follow and like us: