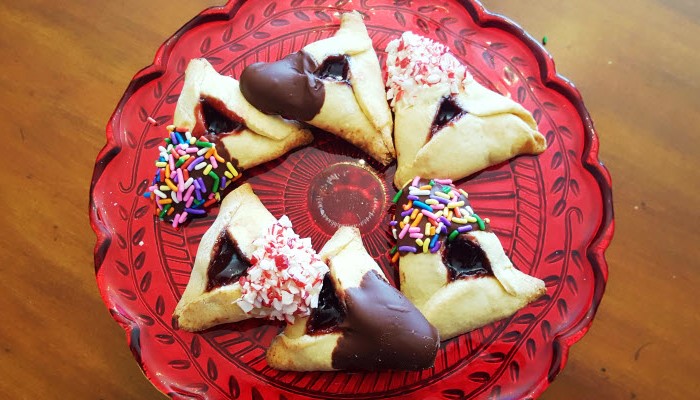 Chocolate-Dipped Candy Hamantaschen
Chocolate-dipped candy Hamantaschen jazz up your Purim celebration and take only a few extra seconds to make!
The Backstory: These Hamantaschen just make me happy. There, I said it. Between the chocolate (semi-sweet and white) and the crushed peppermint candies and sprinkles, well, I can just go on and on about how I almost couldn't stop myself from dipping and sprinkling, dipping and sprinkling. It's true: I was digging through my pantry looking for candies and more things to melt and dip the 24 Hamanstaschen I baked before I had to stop and remind myself that one of my sons, actually prefers them plain. Go figure. More of the Backstory after the recipe…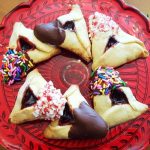 Chocolate Dipped Candy Hamantaschen
Delicate butter pastry surround sweet centers of raspberry jam with chocolate and candy tips. These sweet treats are perfect gifts to bring on Purim or for serving to guests.
Total Time
1
hour
35
minutes
Ingredients
For the Dough
3 1/2

cups

all-purpose flour

1/4

tsp.

Kosher salt

1 1/2

tsp.

baking powder

1/2

cup

vegetable or canola oil

2

eggs at room temperature

1

cup

sugar

2

tsp.

grated orange zest

2

tsp.

pure vanilla extract

egg wash
For the Filling and Toppings
1/2- 1`

cup

semi-sweet or white chocolate chips

sprinkles, chopped peppermint candies

(or M&Ms, chopped nuts, or any other candies your prefer)

1/2 - 3/4

cup

Raspberry or other seedless jam
Instructions
In a medium bowl, sift together the flour, baking powder and salt. Set aside.

In a separate bowl, whisk together the eggs, oil, sugar, lemon zest, and vanilla until mixture is creamy and foamy. Slowly add in the dry mixture with a wooden spoon until combined and dough forms.

Wrap dough in plastic and refrigerate for 1 hour.

Preheat oven to 350 degrees. Line 2 baking sheets with parchment paper or Silpat mats (I prefer parchment paper).

Roll out dough into circles on lightly floured surface or board with a rolling pin to 1/4" thickness using a 3-inch round cookie cutter or 3" drinking glass. Place each circle on the parchment paper, leaving space in between them.

Place a tsp. of jam in the center of each circle. Starting with the left side, fold the left side in over part of the jam, then fold the right side, and finally fold up the bottom third of the circle so the jam is still visible. Pinch each corner to form a seal so the jam does not leak out. DO NOT OVERSTUFF WITH JAM!! Only use one teaspoon of jam or the jam will leak out when it bakes.

Brush the pastry with egg wash for a golden color and bake for 20 -22 minutes at 350 degrees.

Remove from oven and place on rack to cool. At this point, I like to add a small amount of additional jam to each hamantaschen to fill the centers a little more. Do this with a small spoon.

After the hamantaschen have cooled for 15 minutes, line a baking sheet with wax paper and set aside. Pour candies or sprinkles into bowls. Melt chocolate chips in microwave for 60-90 seconds (check after 60 seconds) and stir with a spoon. Carefully dip one corner into the melted chocolate and then sprinkle on the toppings over the chocolate. Lay flat on the wax paper and refrigerate for 20 minutes or until set.
…The Backstory continues: In any case, these are so simple to make and the two extra minutes it takes to jazz them up to melt a little chocolate and sprinkle on some crushed candies or sprinkles is a completely worthwhile investment, because they are as delicious to eat as they are beautiful. Plus, by the time the kids set eyes on these, they are so excited for them, as they've had a few weeks of preparation at Hebrew school learning about Purim, making costumes for their annual Purim carnival, (not to mention noisemakers!) and they're just waiting for the green light to dig in. So whatever you fancy–be it sprinkles, chocolate-covered toffee bits, M&Ms, nuts, etc., have fun with your Hamantaschen. Your kids will love you for it.
Please follow and like us: