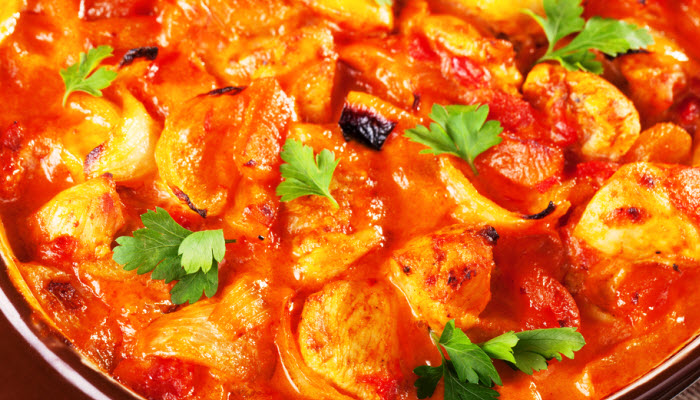 Chicken with tomatoes is a simply yet savory one-pan dish that's a perfect go-to recipe for company and last-minute cooking.
The Backstory: I first made this dish in the very early years of my marriage. I knew how to cook but there really wasn't any reason to. One night a week we had dinner at my in-laws and another one or two nights, we ate at my parents. So that made a total of three nights out (not counting the weekend), so now I was up to five nights where I didn't have to cook.  On the other two nights–that was easy–we ate out! Nothing fancy, but we didn't care.  I had the cleanest kitchen ever. More of the Backstory after the recipe…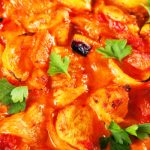 Chicken withe Tomatoes Plus
This one pan dish is delicious and offers easy clean up (love that!) and a wonderful array of seasonings, veggies, and textures. It is perfect with pasta, rice, roasted or mashed potatoes or couscous. This is a great dish for company or a weeknight dinner.
Total Time
1
hour
15
minutes
Ingredients
1

4-5 lbs. Kosher chicken parts

1/2

tsp.

Kosher salt

1/2

tsp.

black pepper

1-2

tbsp.

oil

1

large onion sliced in thick pieces

2+

large peeled potatoes, cut in thick slices

1

large can crushed tomatoes

2

tbsp.

fresh chopped parsley, divided
Instructions
Preheat oven to 350 degrees. Pour some oil in the bottom of a large casserole dish to coat the entire surface. Place onion slices evenly over the entire bottom of the pan. Do the same with the potatoes. Place chicken parts on top of the potatoes. Sprinkle some salt and pepper over the chicken. Add the crushed tomatoes. Sprinkle on 1 tbsp. parsley.

Bake (uncovered) for about one hour. Check often to see that the veggies and the chicken are not sticking to the pan. If it is, add a little water or chicken stock. Pierce a potato to see if is soft, but not mushy. If it needs more time let it continue baking. Also check to see if the chicken is completely cooked.

Remove from oven and let rest. Serve in the dish that it was cooked in.
…The Backstory continues: I really was the bride who knew nothing.  I followed what my mother did in the way of food shopping.  Every Friday evening we would go grocery shopping.  I thought that you had to have food in the house, in case some one dropped in.  In those years (1959 to 1964), no one called to see if you were home, they would just come and ring the doorbell. Try doing that today!  And every Thursday night I would fill my garbage bags with whatever was not eaten.  This was waste management at its worst.  I must have thrown out  thousand of dollars worth of food. Who knew?
Please follow and like us: