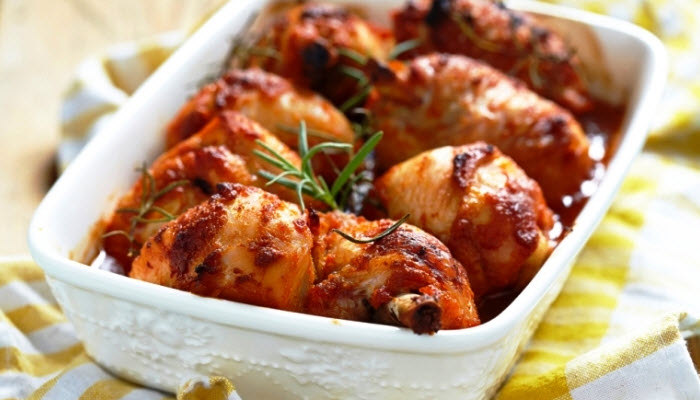 Tangy Chicken with Salad Dressing and Onion Soup
Tangy chicken with salad dressing and onion soup is the perfect weeknight dinner!
The Backstory:  Every time I speak with someone and I tell them that I am gathering recipes, before I even ask them if they want to share with me, I am always offered a pile of chicken recipes.  In my mind, I start saying to myself, "Here we go again, more chicken recipes!" But a few that stick out are from my friend Annette whom I've known for over 50 years.  We are (what I like to refer to anyone that is not a blood relative but feels like family) more like "cousins-in-law".  She actually is a cousin to my brother-in-law.  We did not become friendly until she moved to Florida from California. We speak often and see each other occasionally. This women is spirited and a delight to be around. More of the Backstory after the recipe…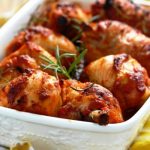 Chicken with Salad Dressing and Onion Soup
This is a great dish to serve when you have company. It looks good and tastes even better. The salad dressing mixed with the soup mix and the cranberries are a perfect blend of sweetness and tartness.
Cook Time
1
hour
15
minutes
Total Time
1
hour
25
minutes
Ingredients
5

lbs.

Kosher chicken parts

or chicken breast

1

envelope onion soup mix

1

15 oz. can of whole cranberry sauce

1

16 oz. bottle of Catalina salad dressing
Instructions
Preheat oven to 350 degrees. Put the chicken into a large baking dish. Set aside.

In a deep bowl combine the salad dressing, onion soup mix, and the whole cranberry sauce. Pour the mixture over the chicken.

Bake for 1 1/4 hour, basting often. Check to see if chicken is done by slicing into it and seeing if the juices run clear. Remove from oven. Let the chicken rest for about 5 minutes Serve hot.
…The Backstory continues:This delicious recipe for Tangy Chicken with Salad Dressing and Onion Soup is her recipe, with some slight modifications. This is one of those dishes you'll turn to again and again, as I do. I love this recipe because it uses ingredients I always have on hand and it's truly delicious. It has a sweet and tangy sauce that gives every bite a perfect balance of sweet and savory flavors. I really hope you'll try this one–I have a feeling it will become one of your staple recipes.
Please follow and like us: