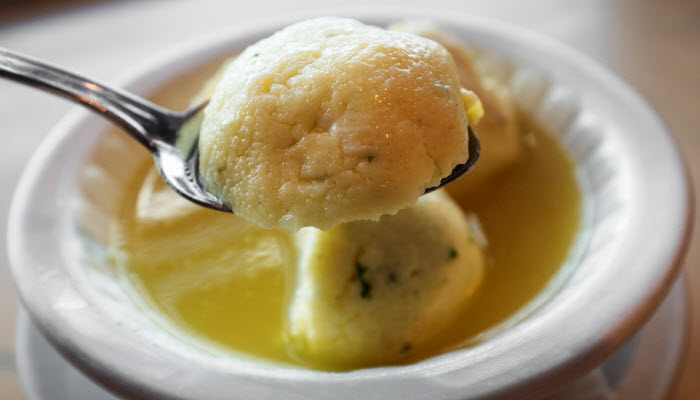 Chicken Soup with Potato Matzoh Balls
Our chicken soup with potato matzoh balls are delicious, delicate, and come out perfect every time. This makes an ideal first course for Seder.
The Backstory: These light and fluffy (no, really, they are) matzo balls are perfect for your holiday Seder. Better yet, they're easy to make and just about foolproof. If you're the type that really likes to spice and doctor things up, feel free to add some more seasonings to your taste such as fresh dill, green onions (even though the hint of grated onion in the recipe flavors the matzoh balls well), or any other spices you like. Don't forget, this makes a complete dish–chicken soup with potato matzoh balls so don't go overboard on salt because there will be plenty of salt as you season the soup. G-d knows, we're all usually covered in that department. More of the Backstory after the recipe…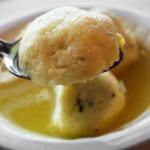 Potato Matzo Balls (for Passover)
Tender, savory, and melt-in-your-mouth matzoh balls are easily made and can also be made a day ahead. Just drop them in golden chicken soup and you'll be all set for your holiday Seder.
Total Time
1
hour
30
minutes
Ingredients
For the Matzoh Balls
2

eggs

2

tbsp.

grated onion

1 1/2

tsp.

Kosher salt

1/3

cup

potato flour

3

tbsp.

matzoh meal

2

tbsp.

fresh parsley, finely chopped

4

cups

grated, drained potatoes
For the Soup
4

quarts

water

1

large Kosher chicken

1

large leek, trimmed and washed throughly

1

medium onion, peeled and cut in half

2

large carrots, peeled and cut in half

1/2

bunch parsley

1/2

bunch dill

1

turnip, peeled

1

parsnip, peeled

1

stalk celery, cut into 1 inch pieces

1

tbsp.

Kosher salt

1/2

tsp.

black pepper
Instructions
For the Matzoh Balls
In a medium bowl, beat eggs, onion and salt together. Stir in the potato flour, matzo meal, grated potatoes and parsley.

Shape the mixture into 1 1/2 balls and cook in boiling, salted water for 20 minutes or until they float to the top. Drain them and serve with chicken soup.
For the Soup
Clean the inside and the outside of the chicken, and pat dry. Place the chicken in a large soup pot. Add 4 quarts of cold water. Bring to a boil. Skim off the scum.

Add the rest of the ingredients, except the parsley and dill. Cover the pot and cook for about 1 hour, on medium to low heat. Stir occasionally.

Meanwhile, wash and shake dry the parsley and the dill. Tie the two bunches together using butcher's twine. Set aside. After 1 hour of cooking, add the parsley and dill to the soup. Cover and simmer for 30 minutes more.

When done place the parsley and dill in a deep serving bowl. Add the rest of the veggies to that bowl. This can be served along with the soup.

Remove the chicken to a platter. If you are not serving the chicken with this meal, you can refrigerate it. This chicken can also be frozen. The variety of dishes using the chicken is endless. A few ideas are chicken salad, chicken divan, chicken ala king, etc. The choice is yours. Enjoy.
…The Backstory continues: You can make these a day ahead and store them in the refrigerator. I suggest putting them in a single layer (and not stacking them one on top of another) in a large storage container where any excess liquid can drain to the bottom.
Please follow and like us: