Treat someone you love to gooey and sinfully delicious caramel apples. Tart, crisp apples are smothered in melted caramel and make the world a better place!
The Backstory: While caramel apples are always a perfect fall treat, I love to make them all year 'round and highlight whichever apples are in season or available at my local market. Crisp, fresh apples and decadent caramel are one of the most perfect combinations in confectionery heaven, and I've yet to see anyone (young or old) turn one down when presented with such a delicious desssert option. And you can include me in this group! More of the Backstory after the recipe…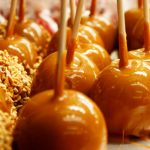 Caramel Apples
Crunchy and sweet, these apples will be a delight for your taste buds. They are rich in flavor from the caramel and if nuts are added, it will be a little bit of sweet and salty heaven for your taste buds.
Ingredients
6

wooden sticks

6

apples washed and dried

remove stems

1

lb.

caramels

we recommend Kraft caramels

2

tbsp.

water

chopped nuts

optional

sprinkles

optional

small pieces of candy

optional, such as M & Ms, or chocolate-covered toffees, etc.
Instructions
Line a baking sheet with wax paper and coat it with baking spray. Set aside.

Insert a wooden stick into the stem part of each apple and set aside.

If using chopped candies and/or nuts or sprinkles, pour them onto individual paper plates and set aside.

In a microwaveable glass bowl, add the caramels and water.. Microwave for 2 minutes and stir to combine. If the caramel is not melted add a few seconds more .

Carefully dip one apple at a time into the melted caramel, letting the excess dip back into the bowl. If desired, then dip the apples into the chopped candies and/or nuts and place onto the sprayed baking sheet to set.

Chill in the refrigerator for 30 - 60 minutes. Serve and enjoy.
…The Backstory continues: How well I remember my daughter looking forward to going to the Staten Island Mall near our home to enjoy these from a local confectionery shop and how she counted the days until her braces came off so she could indulge in this sticky delight. She always preferred them plain, but these are an easy recipe to have fun with by adding chopped nuts, candies, pretzels, coconut or whatever your heart desires.  I have also seen these really fancied up and tied with festive ribbons and given as party favors for weddings, Bar and Bat Mitzvahs, and bridal showers. And why not? I can't imagine a single person not grinning from ear to ear in anticipation of taking that first glorious bite.
Please follow and like us: