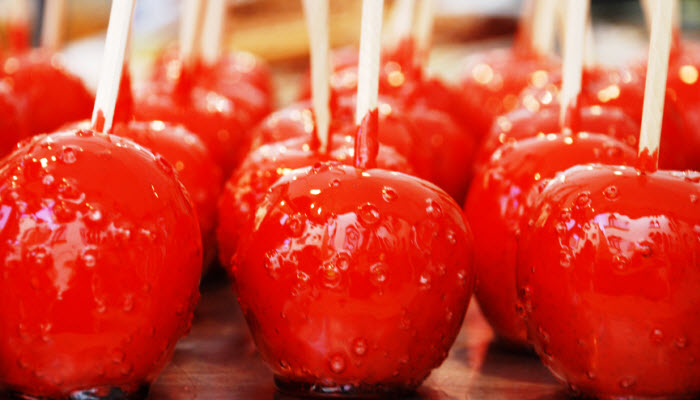 There are no words to describe these sweet, to-die-for candy apples! Crunchy, decadent, and simply delish, make them in under an hour and see for yourself!
The Backstory: What can I possibly say about this gorgeous, childhood favorite treat? The color? The first crunchy bite? The indescribable sweetness of the candy coating and the juicy apple? My mouth is watering just thinking about these nostalgic goodies from my youth. Candy apples (or jelly apples, as we used to call them back in Brooklyn) transform me back to public school. More of the Backstory after the recipe…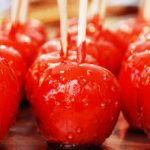 Candy Apples
Sticky and oh so sweet, the crunchiness of biting into this apple is a delicious and fun thing to eat.
Ingredients
8

wooden craft sticks

8

medium apples, wash and dried

remove the stems only

3

cups

sugar

1/2

cup

light corn syrup

1/2

cup

water

5

drops

red food coloring

optional
Instructions
Put sticks through stem part of the apples and set aside. Put parchment paper on cookie sheet pan. Spray with baking spray or lightly butter the parchment paper. Set aside

In a heavy sauce pan put in the sugar, corn syrup and water. Stir. Cook on medium to high heat, do not stir while it is cooking. Using a candy thermometer, when it read 300 -310 degrees remove from heat.

At this point if using food coloring add it now and stir. Remember this is very hot. Work fast and dip one apple into the syrup and coat all over, place on parchment paper. Do all . This has to harden. You can refrigerate for 15 minutes and them serve.
…The Backstory continues: How vividly I remember the first time I had this delicious confection.  One of my classmates had a Halloween party after school hours. A bunch of us girls  and some of the boys traipsed around the corner from the school to the party house. Her mom was waiting for us and greeted us warmly. My friend's mom was one of the warmest people I ever encountered. Years after this party and all the way through high school I would meet her at various functions. I never forgot her graciousness and warm smile. But back to the apples. Not only did she make these, but also had us dunking for apples. We had such a fun afternoon and as we were leaving she presented us all with a wrapped candy apple to take home.
Please follow and like us: