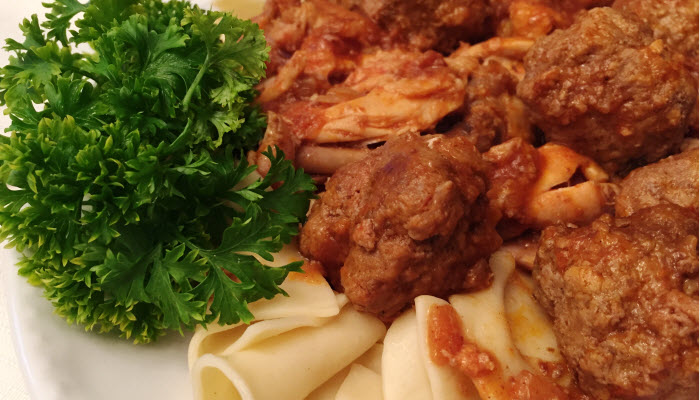 The Backstory: My cousin Rhonda sent me this recipe– it's her mother's.  I can imagine her mom serving this on Friday night for the Sabbath.  This is one of those dishes that were very common among Jewish cooks of a certain generation.  I clearly remember my own mother cooking this and putting all the chicken parts into a large stock pot, and then adding an egg. Yes, I know chickens lay eggs, but this was different. The egg was hard boiled, but very small, and a shade of yellow that I had never seen on any other egg. More of the Backstory after the recipe…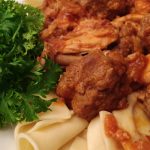 Bella's Chicken Fricasee
Fricasee is a fancy word for stew and this stew is as tasty as any you will ever have. It is a little tangy, but not over powering. The tomato sauce gives it a rich color and the meat is moist and comes off the bones easily. Serve with egg noodles, rice or mashed potatoes.
Total Time
2
hours
20
minutes
Ingredients
1

lb.

Kosher chicken parts/giblets, neck and feet

10-12

Kosher chicken wings

2

chopped garlic cloves

divided

2

medium size onions chopped-divided

divided

4

tbsp.

canola oil-divided

1/2

tsp.

ground cinnamon

1/4

cup

breadcrumbs

1

egg, beaten

2+

cups

water

2-3

cups

tomato sauce

1 - 1 1/2

lbs.

Kosher ground beef

1/2

tsp.

Kosher salt

1/4

tsp.

black pepper
Instructions
Prepare the chicken. In a large pot, heat 2 tbsp. oil. on low to medium heat. Saute 1 chopped onion and 1 chopped garlic clove. Brown and cook until translucent. Add the chicken pieces and brown. Add 1 cup water, cinnamon and 1 cup tomato sauce. Make sure there is enough liquid so that the chicken parts don't burn. Liquid should cover the chicken parts. Cover and cook on low heat for about 1 hour. Check often.

Prepare the meatballs. While the chicken is cooking, mix the beef, breadcrumbs, 1/2 tsp. salt, 1/4 tsp. black pepper and the beaten egg. Form small meatballs about 1 inch in diameter. Set aside.

In a large frying pan, heat the remaining oil on medium-heat. Saute the onion and garlic. On low heat, add the meatballs and brown for about 15 minutes. Add the tomato sauce and water. Cover and cook for another 10 minutes. Check often.

When the chicken is done cooking, add the meatballs and the sauce to the chicken. Cover and cook on low for another 10 minutes. Serve.
…The Backstory continues: I asked my mother "Where is the rest of the egg?"  That is because she only had the yolk and that's what she placed into the pot.  I don't know if she bought the egg that way from the butcher when she purchased the rest of the ingredients, or if she made it herself. What I do remember is wanting to eat the egg and the chicken when it was done cooking. The dish smelled amazing as it cooked and it looked even better.
This is a two step recipe. It's a little time consuming but well worth the effort.
Please follow and like us: