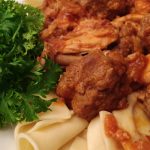 Bella's Chicken Fricasee
Fricasee is a fancy word for stew and this stew is as tasty as any you will ever have. It is a little tangy, but not over powering. The tomato sauce gives it a rich color and the meat is moist and comes off the bones easily. Serve with egg noodles, rice or mashed potatoes.
Total Time
2
hours
20
minutes
1

lb.

Kosher chicken parts/giblets, neck and feet

10-12

Kosher chicken wings

2

chopped garlic cloves

divided

2

medium size onions hopped-divided

divided

4

tbsp.

canola oil-divided

1/2

tsp.

ground cinnamon

1/4

cup

breadcrumbs

1

egg, beaten

2+

cups

water

2-3

cups

tomato sauce

1 - 1 1/2

lbs.

Kosher ground beef

1/2

tsp.

Kosher salt

1/4

tsp.

black pepper
Prepare the chicken. In a large pot, heat 2 tbsp. oil. on low to medium heat. Saute 1 chopped onion and 1 chopped garlic clove. Brown and cook until translucent. Add the chicken pieces and brown. Add 1 cup water, cinnamon and 1 cup tomato sauce. Make sure there is enough liquid so that the chicken parts don't burn. Liquid should cover the chicken parts. Cover and cook on low heat for about 1 hour. Check often.

Prepare the meatballs. While the chicken is cooking, mix the beef, breadcrumbs, 1/2 tsp. salt, 1/4 tsp. black pepper and the beaten egg. Form small meatballs about 1 inch in diameter. Set aside.

In a large frying pan, heat the remaining oil on medium-heat. Saute the onion and garlic. On low heat, add the meatballs and brown for about 15 minutes. Add the tomato sauce and water. Cover and cook for another 10 minutes. Check often.

When the chicken is done cooking, add the meatballs and the sauce to the chicken. Cover and cook on low for another 10 minutes. Serve.