The Backstory: Let's just get this over with and call it what it is: we're talking about a cow's tongue. Plain and simple. And I know that when most people  hear the word tongue, well, at least some of them cringe. Understandably. More of the Backstory after the recipe…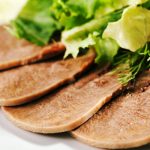 Beef Tongue
Tasty from the all the spices and very tender. Try it on a sandwich, a salad, or sliced with cabbage, potatoes, or some classic deli sides.
Total Time
3
hours
15
minutes
Ingredients
4-5

lbs.

Kosher beef tongue

1

large carrot, cut into medium chunks

1

large onion, cut into large chunks

1

bay leaf

2

clove garlic chopped

2

tsp.

Kosher salt

1/2

tsp.

black pepper
Instructions
Place tongue in a large stock pot and add water to cover. Bring to a boil on high heat. When water is dark in color, remove tongue and clean pot. Return the tongue to the clean pot and add more water to cover and the spices. Bring to a boil again.

Add the carrots and the onions and reduce heat to medium. If more water is need, add only boiling water to the pot to cover the meat. Cover the pot and cook for about 3 1/2 hours. Check often and add boiling water as needed.

Remove when meat is fork tender. Let cool and peel off the outer skin. Slice and serve.
…The Backstory continues: I cringed the first time I saw this organ meat staring at me behind a deli counter  when I was a young girl and for a long time, I had an aversion to it, just from its less-than-attractive (those bumps!) appearance.
But, as an adult, when I had it skillfully prepared at a Kosher restaurant, let's just say that my palate and I had a change of heart.  I had a few thin, tender slices mixed with corned beef and mustard on on seeded rye.  It was served with pickles (naturally), some coleslaw and potato salad. Delicious. I stopped thinking about it as a tongue and starting thinking about it no differently than I would pastrami or corned beef. It also helped not to look at it whenever I passed the meat showcase when I entered the deli, I won't lie to you.
It's also quite easy to prepare at home. It can be boiled, roasted, fried and even used in a salad. The  recipe below is for boiled tongue. This gives you the flexibility to use it any way you wish to serve it.
Please follow and like us: