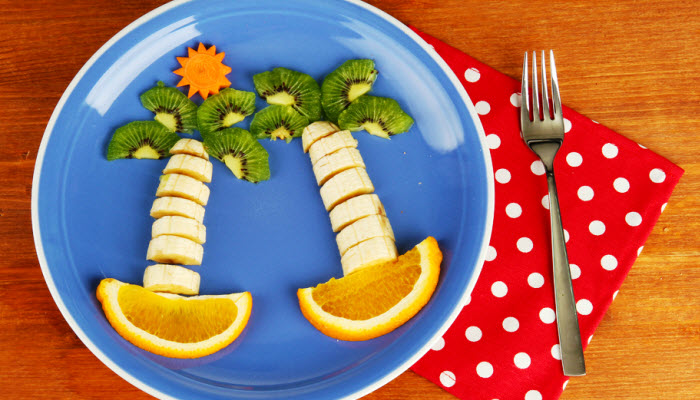 Our banana trees fruit plate is a surefire way to get your kids to eat and enjoy delicious fresh fruit!
The Backstory: Talk about fun at the table! This refreshing and healthy snack can be enjoyed by your children any time of the day.  Think about how much fun it would be for them when they came home from school and our silly (but good-for-them) banana trees fruit plate was waiting for them! It is also a time when you can sit down and chat about their day. Even if you are not at home, but working, they could find this snack in the refrigerator, and know that it was made with love. More of the Backstory after the recipe…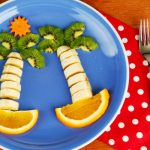 Banana Trees Fruit Plate
Cute to look at and and refreshing to eat! Each piece of fruit brings its own flavor to the dish. Different fruits can be used to make the trees based on your child's preferences.
Ingredients
1

bananas, cut lengthwise and then cut into slices

2

thin slices of oranges (unpeeled)

8

slices of kiwi

1

carrot slice (circles)

for the sun or apricots if in season
Instructions
Take each long half of the banana and gently put on a plate. Separate them a little. Then carefully cut each long piece into slices. It should look like two tree trunks parallel to each other. Place 1/2 of the orange slice at the base of each banana.

At the top of each bananas arrange 4 slices of kiwi to resemble branches and leaves. Place the carrot or apricot circle at the top of the plate to resemble the sun.

Refrigerate till ready to serve.
Please follow and like us: