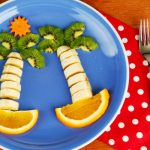 Banana Trees Fruit Plate
Cute to look at and and refreshing to eat! Each piece of fruit brings its own flavor to the dish. Different fruits can be used to make the trees based on your child's preferences.
1

bananas, cut lengthwise and then cut into slices

2

thin slices of oranges (unpeeled)

8

slices of kiwi

1

carrot slice (circles)

for the sun or apricots if in season
Take each long half of the banana and gently put on a plate. Separate them a little. Then carefully cut each long piece into slices. It should look like two tree trunks parallel to each other. Place 1/2 of the orange slice at the base of each banana.

At the top of each bananas arrange 4 slices of kiwi to resemble branches and leaves. Place the carrot or apricot circle at the top of the plate to resemble the sun.

Refrigerate till ready to serve.