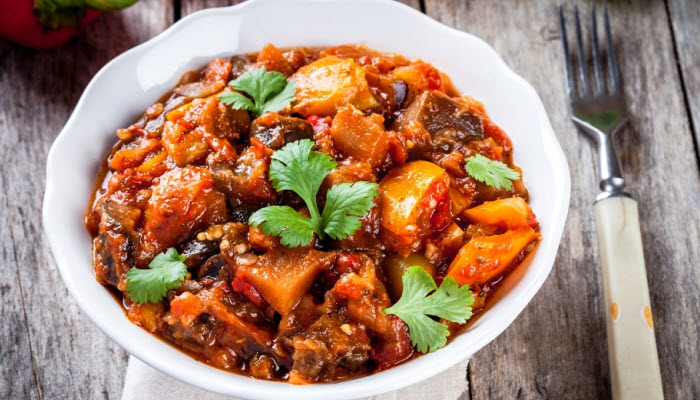 The Backstory: I am always looking for what I call my diet foods.  Veggies are always a good source for weight loss and this traditional French dish can be used both ways. When I top it off with a sprinkle of grated mozzarella or Parmigiano-Reggiano (also known as Parmesan cheese), I know I am gaining a few extra calories. But if I use a thin-sliced, low salt cheese, well, it is not that bad. More of the Backstory after the recipe…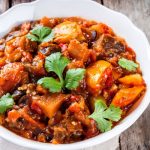 Baked Ratatouille
This savory, rich vegetable dish is colorful, filling, and really lets you eat with your eyes first--it's beautiful when the veggies mix together and when topped with bubbling cheese on top, it's quite the showstopper.
Total Time
1
hour
5
minutes
Ingredients
2

large eggplant, peeled and cut into chunks

2

large zucchini, peeled and cut into chunks

2

large onions, peeled and cut into chunks

use sweet onions

2

large peppers, seeded and cut into chunks

1

pint or container of white or button mushrooms

cleaned and cut in half

2

14.5 ounce cans of stewed tomatoes

2

gloves

minced garlic

1/2

tsp.

Kosher salt

1/2

tsp.

black pepper

3

tbsp.

olive oil

1

tbsp.

chopped fresh parsley

1

tbsp.

fresh chopped basil or dill

1/4

cup

water

shredded mozzarella or grated Parmesan

(optional)or any cheese of your choice
Instructions
In large stock pot heat oil on medium heat. Add eggplant, zucchini, onions, peppers and garlic. Saute for about 5 minutes, stirring often. Add water. Stir to steam the veggies. Cook on low heat about 5 minutes.

Add tomatoes, mushrooms, parsley and basil or dill. Cook on low about 20-30 minutes. When veggies are soft but not mushy it is done. Use your discretion on cooking time. If there is too much liquid you can use it separately for soup. Just store it in a separate container.

If using cheese on top, put vegetable mixture into a baking pan and top with shredded mozzarella or grated Parmesan cheese. Place under broiler for 3-5 minutes (watch it carefully so it doesn't burn).
…The Backstory continues: Ratatouille is so delicious that I do not really consider this diet food, just great tasting veggies.  For myself, this is a main course not a side dish. I usually make a lot of this.  I will put it into individual containers and freeze it.  Just defrost it in the refrigerator.  Put into a microwave dish and top with Parm, Swiss or any cheese you like. Add a sprig of fresh basil, dill, or parsley for garnish. A drop of oil and melt it, either in the microwave  or oven. Your choice.  This recipe does not call for the cheese, but I admit, I add it anyway.
It's also a perfect side dish for fish, meat or chicken.
Please follow and like us: