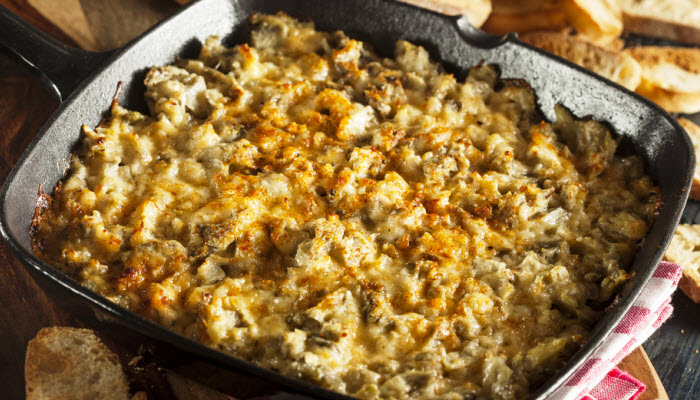 Gooey, cheesy, and downright delicious, artichoke chili dip is a foolproof party dish your guests will devour!
The Backstory: This delicious, cheesy, gooey appetizer comes to you from Lisa Dunne, one of the first people I met when I moved to Andover in the mid 2000s. This recipe was originally published in Temple Emaneul's Sisterhood cookbook, From Bubbie's Blintzes To Our Gourmet Dishes, back in 2006, and I'm so grateful to Lisa for permission to share it with you here.  More of the Backstory after the recipe…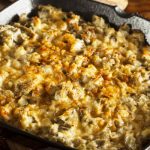 Artichoke Chile Dip
This savory, spicy, and cheesy appetizer is perfect for a party, the big game, or any time you're serving a crowd and need to pull something together quickly. It's the perfect make-ahead dish that you can pop in the fridge and cook off at the last minute.
Ingredients
1

can

artichoke hearts, drained and chopped

1

can

( 4 oz. ) diced green chiles

1

tsp. (or more to taste)

chopped jalapenos (optional)

4

tbsp.

mayonnaise

4

oz.

grated Cheddar cheese
Instructions
Place the artichokes in an even layer in the bottom or an ovenproof dish. Drain chiles and spread evenly over artichokes. Sprinkle jalapenos over the chiles. Add mayonnaise in a thin layer over the chiles. Sprinkle cheese over the top.

Bake at 350 degrees for 15 minutes or until cheese bubbles. Reheats easily in the microwave. Can be prepared ahead and baked at the last minute. Serve with nacho or pita chips.
…The Backstory continues: I met Lisa when I volunteered to help out at a Sisterhood luncheon for seniors. I was drawn to her immediately. She is is truly one of the kindest, most gentle, and inviting women I have ever met. Meeting her was like walking into a hug. Every time I see her, we pick up right where we left off. She also introduced me to Franceen Friefeld, author of the Healthy Option recipes you find on The Jewish Kitchen, and one of my dearest friends. I really have so much to thank Lisa for.
And so will you, when you try this delicious dip, which takes traditional artichoke dip and gives it a nice little kick with jalapenos and chilis and bakes them along with the artichoke hearts until they are hot, fork tender, and nestled beneath a bubbling layer of tangy cheddar cheese. Need I say more?
Please follow and like us: