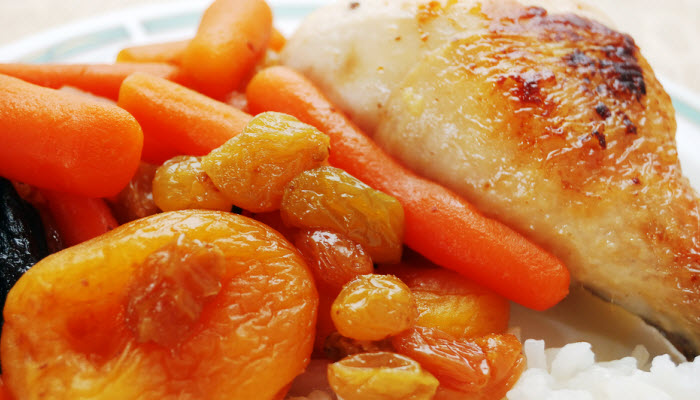 The Backstory: Roasted chicken with apricots is a Jewish fan favorite that often graces our Shabbat table as well as our Seder gatherings. My mother made this recipe for years, as have many of my friends and relatives, but cooking with fruit became very fashionable (again) after the 1982  publication of Sheila Lukin and Julia Rosso's The Silver Palate Cookbook which introduced the world to Chicken Marbella, a dreamy combination of roasted chicken, prunes, olives, capers, and herbs. More of the Backstory after the recipe…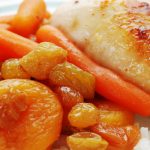 Apricot Roasted Chicken
The sweet flavor from the apricot glaze will be a welcome aroma that will drift though your house. The meat will be tender and tasty from all the seasonings that were used.
Total Time
1
hour
10
minutes
Ingredients
1

4-5 lb. cut up Kosher chicken

1/2+

cup

Saucy Susan Apricot sauce.

apricot preserves can be substituted

1

15 ounce can apricots, juice reserved

2+

large carrots, peeled and cut into large chunks

1+

tbsp.

canola or vegetable oil

1/2

tsp..

Kosher salt

1/2

tsp.

black pepper

1/2

tsp.

paprika

non-stick cooking spray
Instructions
Preheat oven to 375 degrees. Spray a large Pyrex or baking dish (approximately 9 x 13) with non-stick baking spray. Set aside. Mix salt, pepper, paprika and oil together in a small bowl. Set aside.

Place chicken in the baking dish. Separate the skin from the chicken breasts with your fingers and rub some of the oil and seasoning mixture between the skin and the meat. Continue with all of the chicken parts until the mixture is used up. Put the carrots around the sides of the chicken. Add enough water (about 1/2 cup) to prevent carrots and chicken from sticking to bottom of pan.

Bake for 1 hour. Brush Saucy Susan on top of the chicken and sprinkle some of the reserve apricot juice on top of the chicken. Add the can of apricots around the sides of the chicken. Lower heat to 350 degrees. Bake for about 10+ minutes.

Check to see if chicken is done if juices from the chicken run clear. If not cook a few minutes more. (Tent with aluminum foil if skin is getting too dark). Remove and let rest for 10 minutes before serving.
…The Backstory continues: Roasting chicken with fruit is a simple but delicious technique. Fruit–whether it's dried, canned, or even as a preserve, adds rich depth of flavor to poultry and when paired with sweet and savory vegetables, can take something as basic as a roasted chicken to an entirely new level. This recipe is very easy to make. After seasoning the chicken, carrots, canned apricots, and a simple glaze is added to the chicken, and the oven does the rest. An hour or so later, and you will have the most delicious meal waiting for you and your family or guests.
The pan juices and sauce from this dish are mouth-watering and scrumptious and can be served with just about any side dish.  Rice pilaf is a good suggestion as it will absorb all that gorgeous sauce.
Please follow and like us: