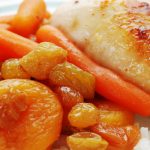 Apricot Roasted Chicken
The sweet flavor from the apricot glaze will be a welcome aroma that will drift though your house. The meat will be tender and tasty from all the seasonings that were used.
Total Time
1
hour
10
minutes
1

4-5 lb. cut up Kosher chicken

1/2+

cup

Saucy Susan Apricot sauce.

apricot preserves can be substituted

1

15 ounce can apricots, juice reserved

2+

large carrots, peeled and cut into large chunks

1+

tbsp.

canola or vegetable oil

1/2

tsp..

Kosher salt

1/2

tsp.

black pepper

1/2

tsp.

paprika

non-stick cooking spray
Preheat oven to 375 degrees. Spray a large Pyrex or baking dish (approximately 9 x 13) with non-stick baking spray. Set aside. Mix salt, pepper, paprika and oil together in a small bowl. Set aside.

Place chicken in the baking dish. Separate the skin from the chicken breasts with your fingers and rub some of the oil and seasoning mixture between the skin and the meat. Continue with all of the chicken parts until the mixture is used up. Put the carrots around the sides of the chicken. Add enough water (about 1/2 cup) to prevent carrots and chicken from sticking to bottom of pan.

Bake for 1 hour. Brush Saucy Susan on top of the chicken and sprinkle some of the reserve apricot juice on top of the chicken. Add the can of apricots around the sides of the chicken. Lower heat to 350 degrees. Bake for about 10+ minutes.

Check to see if chicken is done if juices from the chicken run clear. If not cook a few minutes more. (Tent with aluminum foil if skin is getting too dark). Remove and let rest for 10 minutes before serving.