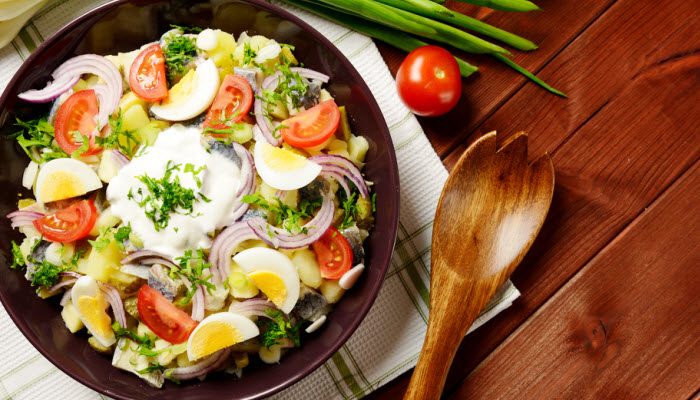 Tomato herring salad is an oldie but a goodie–a creamy dressing with savory seasoning and fresh herbs make this dish fresh, modern, and worth a second look.
The Backstory: How well I remember the oval can of Tomato Herring my mom always had in her pantry. It was her go to item that she used often when she wanted to prepare a fast salad to give to my dad. She would slice up some onions, tomatoes, lettuce and whatever she had on hand. Dad loved this and it was fast and easy for her to do. Herring of any type, more than likely originated in Russia, and  was adopted by  people from other European countries. This type of fish was very prominent  in many Jewish homes. I know that my Bubbe brought fish from a push cart that was common in the early days of the 20th century.  Over the years I heard stories of how, when fish was purchased and refrigeration was practically nil, the fish were placed in a bathtub with water. That is, if you were lucky enough to have a tub. More of the Backstory after the recipe…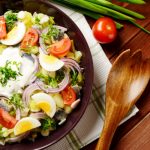 Tomato Herring Salad
The tomato sauce, red onions, eggs, cucumbers, greens and tomatoes present a colorful looking dish. There are plenty of tasty bits of goodness with the addition of the cheese. Serve with crusty bread for a delicious meal.
Ingredients
2

7.5 ounce can of Tomato Herring drained

cut into medium size chunks

4

hard boiled eggs, peeled, cut into quarters

4-6

slices red onions, separated into rings

4

small tomatoes, cut into quarters

1

cup

sour cream

8

sprigs of dill

for garnish

1

large cucumber, peeled and sliced into small rings

1

8 oz. block of cheese, cut into small chunks

your choice, Swiss, Cheddar, or Havarti

black pepper for sprinkling
Instructions
On a large platter, place a small bowl in the center to to hold the sour cream. Put sour cream in that bowl. Surrounding the sour cream, evenly spread the salad greens. Arrange the cut up herring around the cup, then place cucumber around the herring. Place the tomatoes around the cucumbers and arrange the eggs around the tomatoes. Place cheese around the eggs. Scatter the red onions all over the top. Sprinkle dill all over the salad. Sprinkle black pepper over everything.
…The Backstory continues: In those days, most foods were bought fresh on a daily basis.  Fast forward to the present, I always keep a can of sardines in my pantry. Tomato Herring is just like sardines but with  tomato sauce. My brother-in law, whom I see frequently, does not eat any of the other fishes I serve, like lox. whitefish, baked salmon, etc.  So sardines or tomato herring is a staple I always have  a can on hand for him. And it reminds me of my Bubbe.
Please follow and like us: