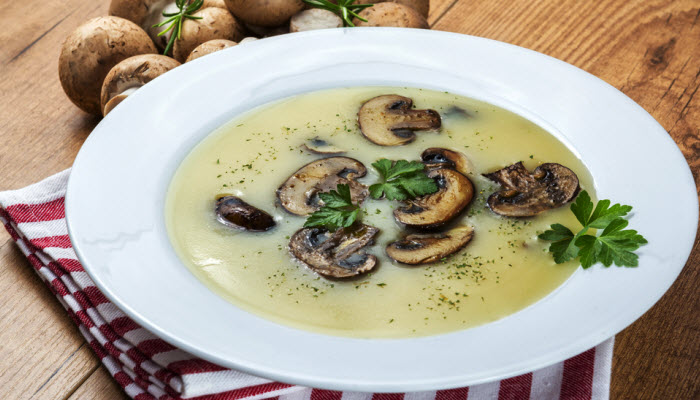 Soy Milk Cream Of Mushroom Soup
Soy milk cream of mushroom soup is silky, delicious and perfect for those who follow Kosher, gluten-free, or lactose-free diets.
The Backstory: Most cream of mushroom soups recipes cannot be used for Kosher meals where meat or poultry is being served, because they contain dairy products. Not true when you use soy milk. Also soy based products are lactose free and gluten free–another plus if you are catering to specific dietary lifestyles.  For this recipe, I use Silk products. They are Kosher and delicious. More of the Backstory after the recipe…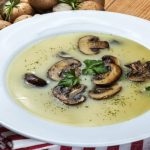 Soy Milk Substitute for Creamy Recipes
A lighter version of cream of mushroom soup but just as tasty. The addition of the saute onions with the mushrooms gives it that extra punch to this normally mild soup.
Ingredients
3/4

cup

pareve margarine

1

large sweet onion, chopped

1 1/2

lb.

fresh mushrooms, sliced

a few for garnish

3

tbsp.

flour

Kosher salt

to taste

black pepper

to taste

2

clove garlic, finely chopped

optional

4 1/2

cups

chicken broth

or vegetable broth

3

cups

soy milk

fresh parsely

to garnish
Instructions
Melt margarine in a deep pot. Saute onions for 2 minutes, add mushrooms and garlic. Stir., When onions are soft, add the flour and stir for 1-2 minutes.

Add the broth and simmer Cover the pot. Mix often for about 10 minutes. Add soy milk, salt and pepper to taste.

Stir and cook for about 10 minutes on low heat. Stir often. Check the seasonings and adjust if needed. When everything is heated and well blended, garnish and serve.
…The Backstory continues: Soy Milk is made from water and crushed soybeans. Cream of mushroom soup is an ingredient often used in green bean casseroles and numerous other dishes. What would Thanksgiving be without this seasonal favorite?  Other dishes that call for cream of mushroom soup can be switched out with this soy version. In this recipe you will have to adjust the seasonings to your taste. But once you've tried this you will be able to serve cream-based recipes to your family and friends and know they are getting a Kosher version of cream of mushroom soup without sacrificing taste, texture or dietary standards.
Please follow and like us: