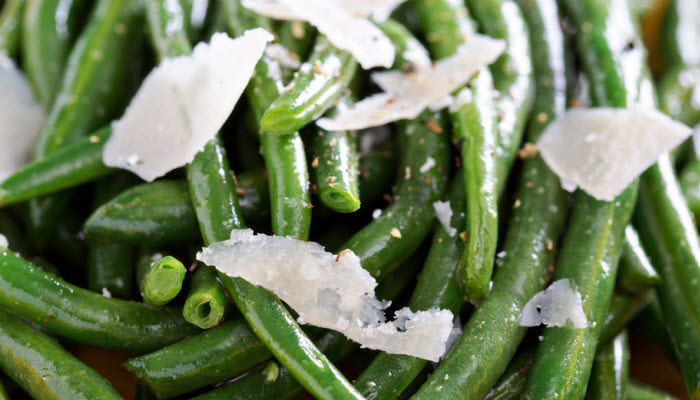 Savory string beans go from basic to over-the-top delicious with parm, herbs, and spices, making them the perfect side for fish.
The Backstory: This recipe for savory string beans is yet another delicious creation from my girlfriend, Dini. This spunky, fascinating woman will be 95 years old in a few months.  She has been active in the kitchen ever since childhood. Coming from a large Jewish family, she learned to cook from her mother.and other family members. In later years, after marriage, she gathered recipes from friends, magazines and programs she listen to on the radio or television. She gave me a stack of her favorites and told me that she believed in sharing. Over the years I have encountered a few people that would not share a recipe. These people go onto a "special list".  To the rest of the people who share recipes and stories, thank you for sharing, and for your friendship. More of the Backstory aft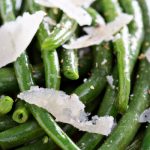 Savory String Beans
A side dish that is easy to prepare. Besides being appealing to look at, it is tasty, with the different seasonings and garnishes. Serve with fish poultry and beef. It can be used in Kosher cooking by eliminating the cheese.
Ingredients
1 1/2

lbs.

fresh string beans

1/4

cup

oil

1

clove garlic chopped

1

tbsp.

onion, chopped

3

tbsp.

diced green peper

optional

1/4

cup

boiling water

1

tsp.

Kosher salt

1

tsp.

dried basil leaves

1/4

cup

grated Parmesan cheese

shaving of parmesan cheese

garnish

1+

tbsp.

toasted sesame seeds

optional, or for garnish
Instructions
Cut green beans in 1/2. Set aside. In a heavy pan, heat the oil. Add to the pan, onions, green pepper cook slowly for 3 minutes.

Add the beans and the water, salt, and basil, mix. Cover the pan and simmer, on low heat for about 15 minutes or until beans are tender. Stir occasionally, to keep the beans from sticking to the pan. Stir in the grated cheese.

Remove from heat and drain off the liquid. Spoon on to a platter and garnish with the sesame seeds, and the parmesan cheese shavings. Serve hot.
Please follow and like us: