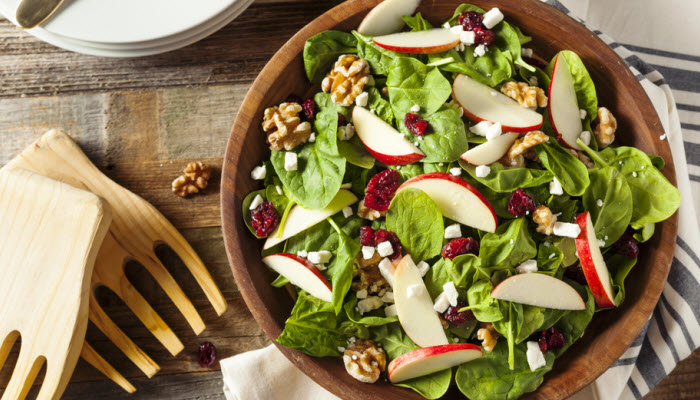 Salad with Fruit, Nuts and Cheese
Salad with fruit, nuts and cheese, is bursting with textures and the perfect mix of savory and sweet flavors for a fabulous lunch or first course.
The Backstory:This is my kind of salad, I love fruit, nuts and cheese and when added to salad greens there is very little I would change. But, when I was growing up in the 1940s and 1950s, salad was not served at anytime with our meals. The only way we got to eat salad was in the form of an add on to a sandwich.  As the years went by, salad suddenly became fashionable to be served at dinnertime.  Most greens were in the form of iceberg or romaine lettuce or some sliced cucumbers.  Today things have definitely changed. More of the Backstory after the recipe…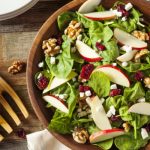 Green Salad with fruit, nuts and cheese
This salad is bright in color and crunchy from the nuts and apples. The apples and berries give it a sweet and tart flavor while the dressing and goat cheese add a creamy smoothness to balance the flavors.
Ingredients
1

package baby spinach

1

large

apple, cored and sliced in small wedges

any apple of your choice

1/2

cup

dried cranberries

1/2

cup

chopped walnuts

any nut of your choice

1/2

cup

goat cheese, crumbled

1/2

cup

balsamic vinegar

1

cup

olive oil

1

tbsp.

chopped garlic

1

tsp.

Dijon mustard

to taste

1

tsp.

honey

to taste

1

tsp.

chopped onion

to taste
Instructions
Place spinach leaves on a large platter. Scatter the sliced apple, dried cranberries, and nuts all around the platter. Scatter the cheese. Place on the table,

In a jar, put the Balsamic vinegar, olive oil, garlic, mustard, honey and onion. Close jar and shake vigorously. Pour into a small pitcher that has a spout. Place next to the salad platter, and serve.
…The Backstory continues: With the arrival of boxed or bagged salads, people suddenly had a variety of choices to experiment and create interesting, flavorful salads that could be meals unto themselves. Everything you could think of has been added to basic greens. Today, making a salad with a meal is simply automatic. When I serve dinner, salad will show up on the table. The one listed below and the dressing that accompanies it are my choice for a perfect salad pairing.
NOTE: If you are serving a Kosher meal with meat or poultry, eliminate the cheese from the salad.
Please follow and like us: