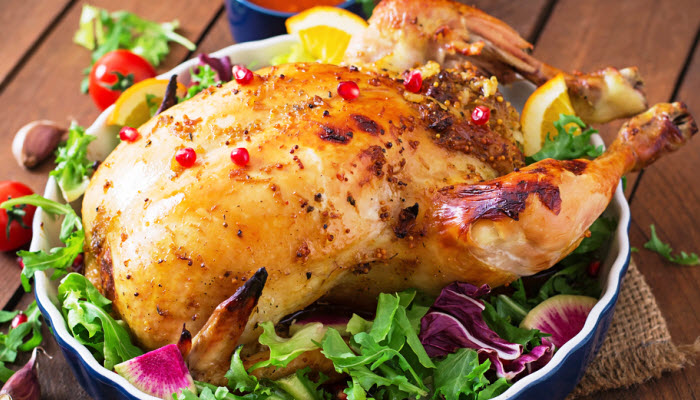 Rice stuffed chicken is a deliciously savory main dish that's perfect for weeknight dinners, company, or special Shabbat celebrations.
The Backstory: This recipe comes to me by way of my friend, Lorraine.  Lorraine is one of those people that you bond with the minute you meet her. She is warm, smart, funny and can be dead serious when she has to be.  This is a combination of her heritage and mine. Lorraine's background is that her mom came from Palestine and her dad from Egypt. Her family migrated to Syria and then eventually came to America.  Lorraine was born in the U.S. but still makes some of the Syrian Jewish foods that she was raised with.  My family background is from Poland along with many other Eastern European Jews who eventually migrated to the U.S. More of the Backstory after the recipe…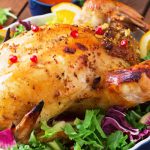 Stuffed Chicken with Rice
When chicken is roasted and seasoned, the aroma from the skin and seasonings cooking away let you know that you know you are in for a treat. Add stuffing and it becomes a wonderful meal in one.
Ingredients
1

4-5 lb. whole Kosher chicken

1

tsp.

Kosher salt, divided

1/2

tsp.

black pepper, divided

1/2

tsp.

garlic powder divided

1/2

tsp.

paprika

2

tbsp.

vegetable or canola oil

1

cup

water

or chicken stock

1/2+

cup

cooked rice

1/2

cup

blanched almonds

or nuts of your choice

1/2

cup

dried apricots, cut into small pieces

or any dried fruit of your choice

1/2+

lb.

Kosher ground beef

or ground turkey or veal
Instructions
Preheat oven to 325 degrees. Spread almonds on a baking sheet pan and roast to a light golden color for about 3 minutes. Remove from oven and place in a bowl. When cool, slice almonds in half and set aside. Raise oven temperature to 350 degrees.

Cook rice according to package directions. Place in a large bowl. Add the ground beef and 1/2 tsp. salt and 1/4 tsp. pepper. Add the apricots and almonds. Set aside.

Mix the remainder of the salt, pepper, garlic, paprika and oil together. Spread on the chicken. Put a rack in a large roasting pan and place the chicken on the rack. Place the beef mixture into the cavity of the chicken. Pour a cup of water or chicken stock in the the bottom of the roasting pan and bake chicken for 2 hours, basting often.

Remove the pan from the oven and let chicken rest for about 10 minutes. Remove the stuffing and place it in a serving bowl (cover with foil until ready to serve). Place chicken on a serving platter. Serve and carve at the table.
…The Backstory continues: The difference in our cooking is that she cooks with different spices like allspice, cumin, cinnamon and coriander. Rice and bulgar wheat are also included in this list.  I think that even  though my grandmother (my mom's mom) came from Poland, she never knew how to cook when she came to America.  It was learning on the job, and boy, did she ever. She made the best potato latkes in the world. She was also known for her chocolate chip muffins.
I wish I could say that she taught my mom how to cook, but she didn't. My mother also learned on the job. She was determined that her four daughters would know how to do everything.  We learned how to cook, clean, and entertain. It was not something that we did everyday.  But we learned these lessons. I tried to teach my daughter, who wanted no part of this when she was growing up.  To my pleasant surprise, she learned everything later on.  Today she is a fantastic cook, an over the top baker and just a smart, funny and a decent woman. What more can a parent want? Nothing.
But back to Lorraine's rice stuffed chicken. Serve with a veggie and some fresh Challah, and you'll be enjoying a truly fabulous meal. Thank you, Lorraine.
Please follow and like us: