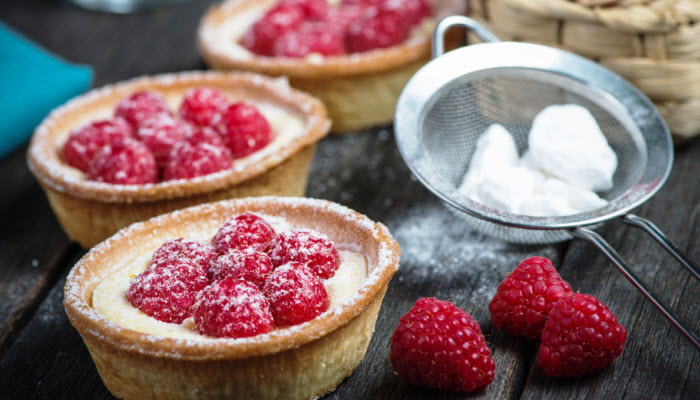 Melt in your mouth goodness!!
The Backstory: Hanukkah is a truly special time – we celebrate the triumph of light over darkness and honor the Festival of Lights with eating foods cooked in oil, playing with the dreidel and giving the gift of Hanukkah gelt. More of the Backstory after the recipe…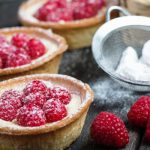 Raspberry Financiers
Melt-in-your-mouth pastry gets its delightful flavor from butter, almond, and honey. These Hanukkah cakes are the perfect ending to a festive holiday meal or for any occasion when a delicious dessert will do.
Ingredients
Vegetable oil or cooking spray

8

tbsp.

unsalted butter

cut into pieces

1/3

cup

honey

2

cups

sliced almonds

lightly toasted and finely ground

1/2

cup

granulated sugar

1/4

cup

confectioner's sugar

sifted

3/4

cup

cake flour

sifted (not self-rising)

1/2

tsp

Kosher salt

5

large egg whites

1

cup

raspberries, extra for garnish

pureed and strained (1/2 cup)

Confectioner's sugar for dusting
Instructions
Preheat oven to 350 degrees. Coat mini cupcake tins with cooking spray.

Heat butter in a small saucepan over medium-low heat, whisking frequently, until golden brown, 6 to 7 minutes. Add honey, and whisk until combined. Remove from heat.

Using a mixer fitted with the whisk attachment, combine almonds, sugars, flour, and salt on low speed. Raise speed to medium-high, and add egg whites, one at a time, beating after each addition until just combined. Scrape down sides of bowl. Reduce speed to low, and add warm butter-honey mixture in a slow, steady stream. Raise speed to high, and beat for 45 seconds.

Spoon batter into muffin tins, filling each halfway. Spoon a scant ½ teaspoon raspberry puree near one edge of each cup. Draw a skewer or the tip of a paring knife through puree toward opposite edge of cup to form a heart shape if desired.

Bake, rotating tins halfway through, until edges are golden brown, 15 to 20 minutes. Let cool slightly in tins on wire racks. Using a small offset spatula, carefully unmold financiers, and transfer to rack.

When cool, garnish with fresh raspberries and dust with Confectioner's sugar.
…The Backstory continues: Financiers are small French cakes that are truly delightful. Traditionally, they are baked in a rectangular shape and look like small bars of gold, hence their name. Some argue and say that they were named financiers because they became popular among bankers in the financial district of Paris. Either way, these cakes can be used as a mouth-watering representation of Hanukkah gelt.
For this recipe, I used small tart tins. With their signature ingredient of beurre noisette (brown butter), these light, melt-in-your-mouth treats have a spongy texture, an almondy taste. Whether you choose to bake them for Hanukkah or just as a dessert, financiers make a lovely addition to your menu.
Please follow and like us: