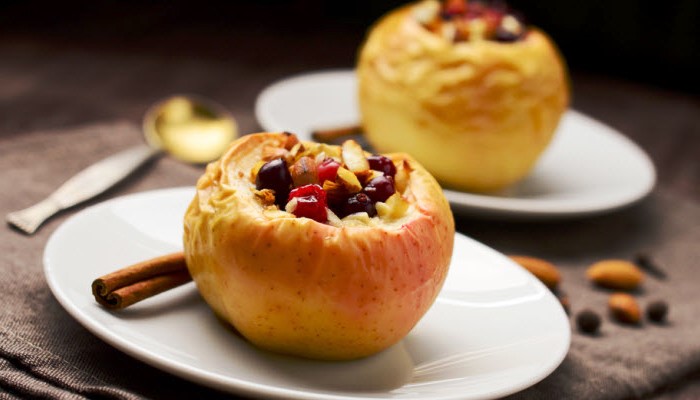 Old-Fashioned Baked Apples
Our recipe for old-fashioned baked apples is bursting with tender dried fruits, honey and cinnamon goodness. Is your mouth watering?
The Backstory: What can be more appealing to children (or adults?) when they come home from school or come inside from playing outside on a cool fall day to find a warm, sweet snack waiting for them? I can imagine an autumn day when the leaves are turning from green to orange, yellow, and other rustic colors.This reminds me of my childhood days, when the aromas permeated my mom's kitchen. Old fashioned baked apples are a healthy snack that also taste yummy. Your children will thank you with hugs and kisses when you serve them this delicious, cinnamon-y dish More of the Backstory after the recipe…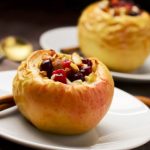 Baked Apples for Kids
The plump apples with their sweet filling will fill your home with the most delicious aromas from the honey, cinnamon, nuts, and dried fruit. The kids will love their sweet and sticky goodness!
Ingredients
4

large baking apples

your choice

4

tbsp.

quick-cooking oats

2

tbsp.

dried cranberries

2

tbsp.

raisins

2

tbsp.

slivered almonds

any nuts of your choice

2

tsp.

honey

1

tbsp.

butter

1

tsp.

cinnamon

8

cinnamon sticks

for garnish
Instructions
Preheat oven to 350 degrees. Core apples and scoop out some of the apple. Reserve this and leave a well for the filling. Set aside

In a small bowl, mix together the oats, cranberries, raisins, almonds. honey, butter, ground cinnamon, add the reserved scooped apple.

Put the apples into a tight fitting baking dish. Evenly divide the mixture into the 4 apples. If there is any left over you can put it in a small dish and bake it along side of the apples.

Bake for 20 minutes. Apples are ready when a toothpick inserted goes into the apple and the apple feels soft but not mushy.
.
Please follow and like us: